2551
« on: February 26, 2006, 04:41 PM »
I wanted to give a quick update on some WIPs that I whipped out this afternoon (ha!).
First up a Jedi Knight for my upcoming Photonovel.  His name is tentatively Rey Shaa.  I hope to make him my "hero" character even if he's not the star of the first couple of entries.  Obviously, his head was the source of part of my casting experiments (one that worked okay).  I just had to dremel into the head to make it ball jointed.  I had to trim up the neck joint as well.  I think I'm going to paint him as a Caucasian so as to further differentiate him from Typho.  I had a surprisingly hard time to get this figure to stand up right.  Has anyone else had problems with Pilot Obi-Wan in terms of standing?  His left foot needed to be bent pretty good.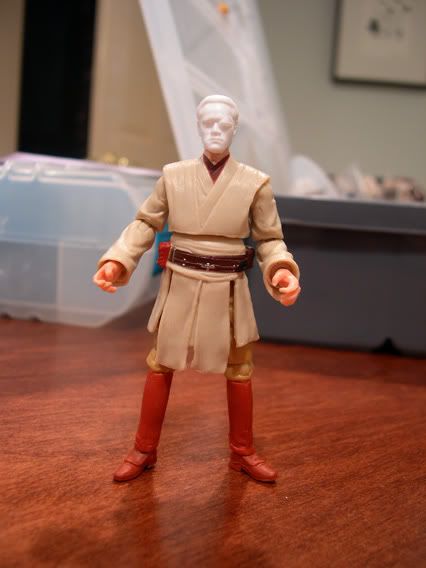 Next up, a young Darth Sidious.  He still needs some work but for now he's a head that I got from my custom fodder from Adam (I'm pretty sure its Dutch Vander) and Sidious evolutions body.  I need to do something to match the hands with the face, or maybe use black "gloves".  I also want to give him a cape or robe.  Do you think this head works for a young Palpatine.  I think it does.