151
From JediMAC: Alright, since our prior Kubrick thread was getting too big, it's time to start all over again with yet another new one - so here we go with Star Wars Kubrick thread #6 - Attack of the Kubricks!  Good time to start over, with Dale's news on the Series 4 figures!  So here's a quick recap of our Kubrick history here at JD, for anyone looking to catch up on things: Revenge of the Kubricks! (part 5), Power of the Kubricks! (part 4), Return of the Kubricks! (part 3), The Kubricks Strike Back (part 2), and if you want to read all the way back to the original thread that started it all, New Star Wars Kubricks (part 1).  Now carry on, and enjoy the Kubrickmania, here at JD!
--------------------------------
Series 4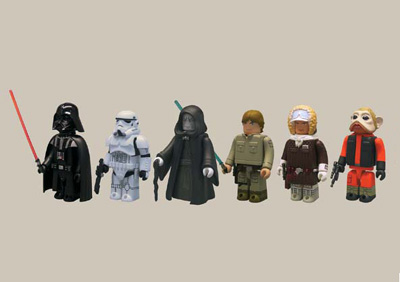 Darth Vader, Stormtrooper, Emperor Palpatine, Luke Bespin, Han Hoth and Nien Nunb.
**** me, I'm excited!