406
« on: August 12, 2004, 12:49 AM »
Yup folks, back again with a new review. My Deluxe Durge was just a starter for great things to come as our own jokabofe's going to personally be helping to get my reviews up routinely at the site now, so expect good things (fingers crossed here) to come in the near future.
We have reviews that go back as far as the Clone Wars line and beyond, so good stuff on the way (Or I like to think anyway).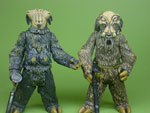 This go-round is
Tanus Spijek & J'Quille
, Jabba's 2 furball bafoons in his palace, and two great figures to review.
By all means, click through
RIGHT HERE
and check out all the reviewing goodness.
Keep your eyes peeled for a new title for our reviews section as well, and for many more reviews to come!