18316
« on: August 20, 2004, 09:39 PM »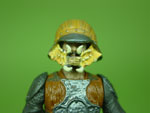 The tail-end waves of the Saga line really were some obscure characters, some good new figures, and many much needed resculpts. Lando alone got two, and his first was the Skiff Guard version of him.
Much needed? Many debated that notion, but after seeing the new one it's tough to dispute that he needed it.
JediDefender.com and myself are proud to present the latest figure review of
Lando Calrissian (Jabba's Sailbarge)
.
A good figure overall, and a great one to review, so
Click Right Here
to read the full review! And of course, as always, share your thoughts here as well.