151
« on: March 9, 2011, 12:40 AM »
I wasn't sure where to put this since it's affected Clones/Troopers from Waves 2, 3, 4, 5, and apparantly 6. Thought it'd be easier to start a new thread...
On the topic of yellow/green helmets - I've read a few anecdotal stories around the 'net that the greening/yellowing is being caused by something introduced during the molding process on the helmets - I don't know if it's a mold release agent or a plastic residue, but apparently, it's 100% reversible/removable!
I had a guy (
toydoctordude
- thanks, man!) send me an e-mail over at
hanshideout.com
with some simple instructions on how to de-color the recent Vintage Collection 'supposed to be white' trooper helmets -
[disclaimer - hot water is hot. Don't burn yourself!]
1. heat up some water to near boiling
2. soak the helmet in the HOT water for 3 minutes
3. dip a dry cloth in the HOT water
4. remove helmet from water (carefully, it's hot!)
5. rub/polish/buff the helmet with the wet cloth
Simple, right? I tried it with one of my worst greenish helmet Ep3 Clones and I'll be damned if it didn't work. After a few minutes, it didn't look perfect but it looked a whole lot better. A few more minutes of buffing with the cloth (it helps to rub hard, but obviously not hard enough to remove the paint) and the previous green color was almost unnoticible.
A caviat - it only seems to help with the helmets, not sure if it will do anything if you've got yellow-thigh Sandtroopers or whatever... I'm also not sure how long it will last as I only just tried it myself tonight (for all I know the green will come back in a few weeks). And, obviously, it doesn't help the carded collectors out there.
If I had known it was going to work so well, I would have taken some before pics - here's the after pic anyway.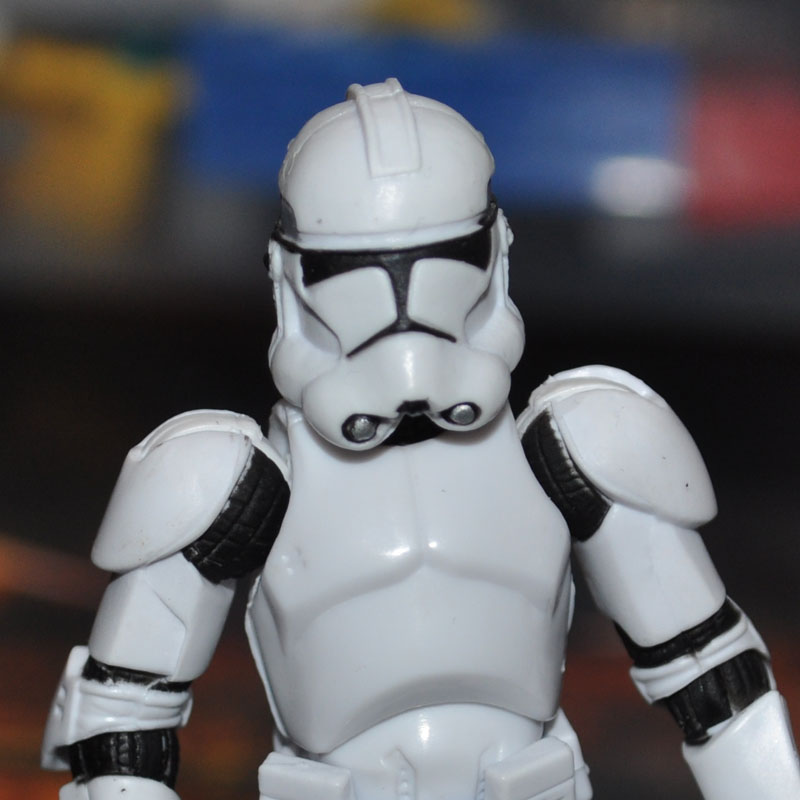 Anyone out there have a yellow/green trooper helmet to try it out to see if you can duplicate my success?