256
« on: January 29, 2006, 09:29 PM »
JediDefender.com is giving you a chance to win an exclusive one-of-a-kind custom made Star Wars action figure!
In this give-away, the second in the series, we are pleased to offer you the chance to win a 3.75" Star Wars custom action figure of
Clone Wars Mobile Artillery Driver
created by JediDefender Forum Member
CHEWIE
.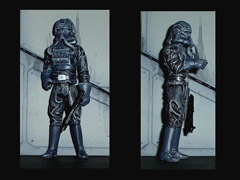 You must be a registered (and active) member of our Jedi Defender Community Forums to be eligible. To enter, send an e-mail to:
customgiveaway2@jedidefender.com
Please include the following information in your e-mail:
Name
Address
E-mail Address
Forum Username
Give away ends
Saturday, February 11th, 2006
.
Additional Rules
: Incomplete entries will be deleted. Limit one entry per person. All entries will be deleted if you send more than one entry or do not fulfill the eligibility requirements! Shipping is free to those in the U.S. and Canada.
Good Luck!