361
« on: April 12, 2007, 04:45 PM »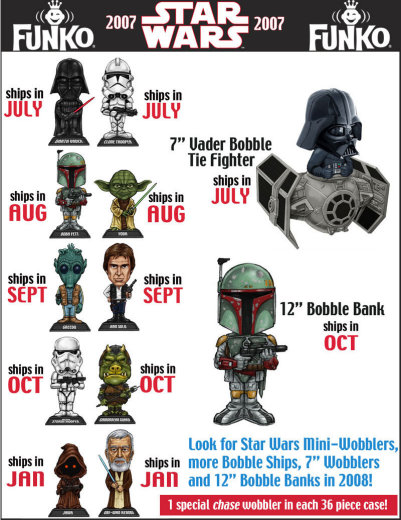 Press Release from
Funko
:
"Funko, home of the Wacky Wobbler, is proud to announce an agreement with Lucas Films LTD to produce Star Wars Bobblehead products. Funko will take a unique approach with the Star Wars franchise by applying the beloved FunKo style to the lightweight PVC Vinyl bobbles. Look for icons such as Darth Vader, Boba Fett, Yoda as well as cult favorites like Greedo, Jawa, Gamorrean Guard, Tusken Raider, and many many more!
Funko will also be producing the first ever 12" Star Wars Super Deformed Style Bobble Banks, as well as Bobble Ships, Mini Wobblers and much more!
Also, Funko will introduce Chase Pieces into each case. One special limited edition 7" wobbler will be included per case that will surely add some cool collectibilty and fun to the Star Wars Funko line.
So look for Star Wars to be FUNKO-IZED this July!"