8956
« on: February 9, 2005, 10:32 PM »
Look at her chest and think about QuiGon.

I'm looking and looking and all I see is shadow from boobage.
Granted I do have bad vision and have been wearing the contacts since 6am, but I just don't "see" it....†

Jeff
edit
- OK, I cut out the "portion" of Shaak Ti in question and played with the image a bit...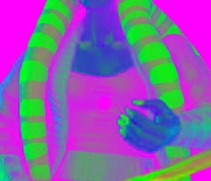 Now, I see
something
, but is is really "battle damage"? †