9316
« on: November 17, 2004, 12:47 AM »
I think hopefully we'll have another nice Hooters group shot to throw in here sometime next week!  That is, if Jim isn't afraid to let the world see his mug...  Scott, Jeff, and I have already publicly humiliated ourselves in here though, so nothin' new coming on our ends.  But hopefully we'll nab another hot waitress for the shot!   

Well, you've all waited and waited and your reward is here!
While some of the gang is still out on the town trying to get J-MAC to puke, I'm home to document the first half the evening...
The
Twin Cities JediDefender.com Star Wars Collector Club
got together tonight to honor SoCal hero JediMAC as he was nice enough to drop by for a visit.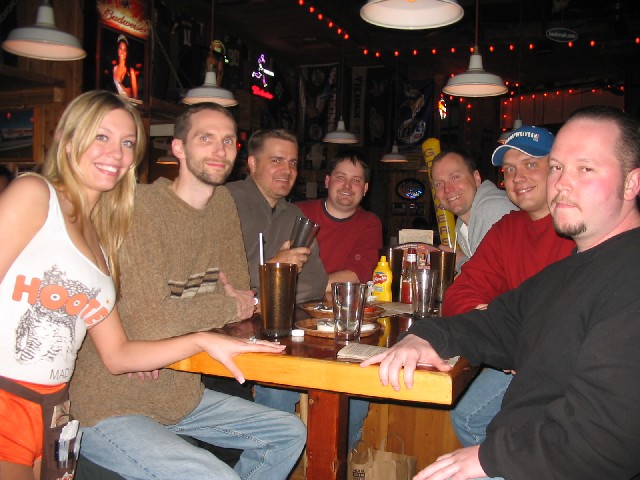 From Left to Right we've got:
Hooters Girl, chuckles, JediMAC, Nataku (me), Wuss-Boy (aka SpaceMantis), Scott (aka OCB), and infinitifett.
We got together, had some drinks, ate some food, and discussed many SW topics such as how much JD.com kicks ass and such.
Of course, as is often the case, things turned ugly when J-MAC got some drinks in him.  During the discussion of the Wolves superiority over the Lakers, J-MAC snapped and attacked poor Scott with his SoCal Lakers French Fry...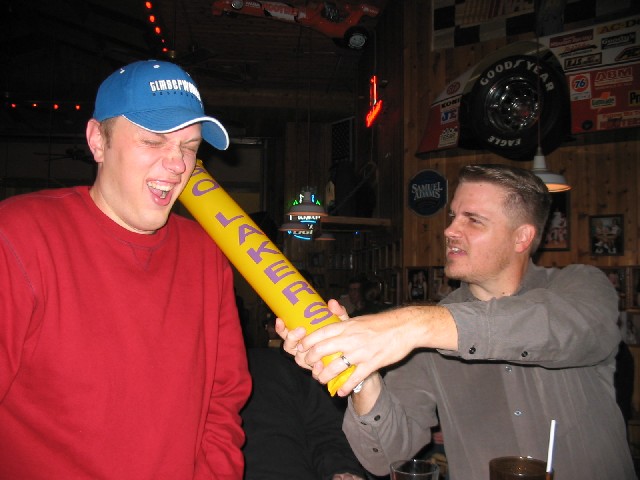 Other than the french fry incident, everyone had a good time and I look forward to tipping a few with JediMAC (and the rest of our crew) again at C3. 

Jeff
ps.
Quote of the night? When JediMAC asked the waitress if she was "loose or carded?"