Japanese Star Wars Kubricks:
Exclusive Kubrick Box Sets
by Scott Pearson and Jeff Smentek
2004 Toys R Us 5-Pack

In the summer of 2004, Medicom made another surprise move with the announcement of a 5 pack of Star Wars figures: Obi-Wan (Spirit), Han Solo (Bespin) and the debut of 3 unique figures - Paploo, R2-Q5, and R5-D4. What made this set rather unique was that it was available at Japanese Toys R Us stores. The sets were released in December of 2004 and reports of people buying 40-50 sets at a time were commonplace.
Spirit of Obi-Wan Kenobi:



Having learned the trick of cheating death from his old master, Obi-Wan was able to advise Luke long after being struck down by former pupil, Darth Vader. Medicom cast Obi-Wan in a translucent blue plastic and the resulting figure captures the ghostly Force specter perfectly.
Han Solo (Bespin Outfit):



Han is one of Medicomís favorite characters it would seem. Heís been released in his A New Hope duds, Carbonite and Post Carbonite Block form, and will be released in Hoth Gear in the upcoming Series 4. Han is all over the Star Wars Kubrick universe, much more so than the other main characters. Complete with his trusty blaster, Han looks as cool as cucumber here in his Bespin gear.
Paploo:



2004 saw the Ewok population explode in Kubrickia. Series 3 included Wicket and Logray (who was a chase figure), and the TRU Box Set included the rascally Paploo. He was equipped with a battle spear and his headdress is wonderfully captured.
R2-Q5 (Imperial R2 Unit):



Reaching from the depths of obscurity, Medicom put this Imperial Astromech in the set. This R2 unit was also released in the Hasbro POTJ line and again showcases their superb capture of detail on such a small scale.
R5-D4:



Thank the maker for R5ís faulty motivator. If not for his blown head gasket, the adventures we all know and love may never have happened. While Hasbro collectors are still waiting for a proper R5-D4, Kubrick fans can enjoy their very own figure - one without a break apart death cannon hidden inside.
Packaging: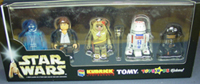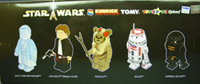 This set was again released in a window box. It also bears the logo of Toys R Us
&copy Copyright 2002-2017 JediDefender.com. All Rights Reserved.
Disclaimer | Privacy Policy