Japanese Star Wars Kubricks:
Series 3 - Ewoks, Jawas, and More
by Scott Pearson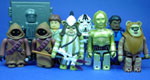 Medicom, a Japanese toy company, has produced some of the coolest Star Wars products to hit the collecting market in some time. Kubricks are small scaled block figures that are bigger than Legos, but smaller than the normal 3-3/4" Hasbro figures. These have been increasing in popularity since we first reported about them early in 2003. Series 3 of the line was just released at the end of October 2004, and the following is a look at each respective piece included therein:

Packaging (C-3PO Shots)
Boxed Images

This packaging is very much a nod to the Vintage line in its design. The black and silver lettering make for a very impressive display piece (as Hasbro just recently discovered themselves, finally, with their Original Trilogy Collection items this fall). Kubrick boxes show what figure is packaged inside, in this case C-3PO. What is not known, is that inside some boxes are corresponding "chase" figures, which are much rarer and than the more common basic figures.

Series 3 regular figures include: Lando Calrissian, C-3PO, AT-AT Driver, Wicket, Jawa and Han Solo in Carbonite Block.


Lando Calrissian


There were five figures at the top of most people's Kubrick wishlists: Lando, C-3PO, Darth Vader, Yoda, The Emperor. Two of these five were released in Series 3, but hopefully the line will continue on for some time and the rest of these important characters will see their eventual release as well. Lando is a great little figure, sporting a removable cape and a blaster.

C-3PO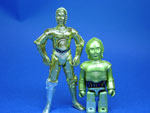 The prissy protocol droid makes his Kubrick debut in style. Intricate details on the paint applications and the correctly colored silver right shin plate make this one of the hits of Series 3. R2-D2 from the Early Bird set finally has his long lost pal to hang out with in Kubrickworld!

AT-AT Driver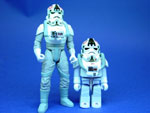 Once again, Medicom shows why people are crazy about their product. The details and paint job on the AT-AT Driver are absolutely breathtaking. A knockout home run in terms of sculpt makes this one my personal favorite of Series 3.

Han Solo in Carbonite Block, and Hibernation Sickness Han Solo (CHASE)
Han makes his second and third appearance in Kubrick form with these two figures. The regular release is the Han in Carbonite Block. But packed in one out of every four Carbonite Block boxes is the "chase" Hibernation Sickness Han instead. Borrowing heavily yet again from the vintage Kenner figures, Medicom has duplicated a neat feature where the chase Hibernation Sickness Han can fit behind the block by the use of a harness system.

Jawa, and Vinyl Caped Jawa (CHASE)
In another great homage to the vintage line, Medicom has released both a regular robed Jawa and a "chase" Vinyl Caped Jawa. The Vinyl Cape Jawa was released in the early days of the Kenner line and was quickly replaced by a cloth robed version. Much the same, the regular robed Jawa (with Droid Calling Device) is packed as the normal basic figure, while the Vinyl Caped Jawa is found at a ratio of 1:96 in the Star Wars Kubrick Boxes.

Wicket
Showing they're not scared of the fuzzy furballs, Medicom has released not one, but two Ewoks in Series 3. Wicket is part of the base figure set and comes with a spear and looks great when posed with the Endor Leia that came in the Speeder Bike set.

Logray (CHASE)
The other Ewok is another "chase" figure - the Ewok Medicine Man Logray! Packed again at a 1:96 ratio, he's going to be a tough, and expensive, one to obtain. Logray comes with his staff and is a great looking figure.

Ratios:

Here's a recap of the pack ratios in each box of 12:

3x Wicket
3x Jawa
3x Han in Carbonite
1x Lando
1x C-3PO
1x AT-AT Driver

The chase figures are:

Hibernation Sickness Han Solo 1 out of every 4 Han in Carbonite Boxes (Common)
Logray 1 out of every 24 Wicket Boxes, and 1 out of every 96 Series 3 boxes (Very Rare)
Vinyl Caped Jawa 1 out of every 24 Jawa Boxes, and 1 out of every 96 Series 3 boxes (Very Rare)

Availability:

I bought my complete set of nine Series 3 figures for close to $200. Sets of 9 seem to be going between $200 and $250 right now on eBay. Kubricks are not a cheap collectible and line by any means, especially if you intend to stay complete with the rarer "chase" and carded figures. To make matters more difficult, they are not available at U.S. retail. Sealed boxes of 12 can be obtained at some U.S. e-tail stores, like JediDefender sponsors BigBadToyStore or Brian's Toys. Ebay and especially the JediDefender trade forums are other good options. Expect to pay less for regular release figures, and up to $75 a piece for the two rare chase figures.

The Future:

TRU Japan will be releasing a 5-pack of Kubricks some time next month, consisting of Spirit Ben, Bespin Han, R5-D4, R2-Q2 and Paploo. Also soon to be released is a carded Holographic Princess Leia from A New Hope. Beyond that, the future of the line still looks strong. Medicom continues to release Kubrick toys from many different TV, movie and comic sources. In fact, the Disney line of Kubricks has now seen the release of at least 6 series so far. So with their popularity with collectors around the world, the future looks bright for Star Wars Kubricks for some time to come!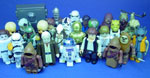 &copy Copyright 2002-2021 JediDefender.com. All Rights Reserved.
Disclaimer | Privacy Policy