NEWS ARCHIVES
February 2009
---
A Musical Journey


Star Wars fans in the UK will have a unique opportunity to enjoy John Williams' music first hand with Star Wars: A Musical Journey when it debuts this April. The Royal Philharmonic Orchestra & Choir will perform the scores that made Star Wars so memorable! The Lucasfilm Archives will also be present, showcasing a number of items from all six movies. Click through to read the press release.

Saturday, February 21, 2009 | Jesse Wall



Defender Wishlists 2009: The Phantom Menace


Unlike some other Johnny Come Latelies, for the last 5 years, JediDefender has run an informal fan poll asking for your ten most wanted characters from the various Star Wars films. All you have to do to take part in our latest poll is come up with your Wish List for your top ten 3-3/4" figures for Star Wars: The Phantom Menace. Either submit via our forums or via e-mail. Results will again be hand delivered to Hasbro at Comic Con, so let the fun begin!


Tuesday, February 17, 2009 | Scott Pearson



Willrow Hood!!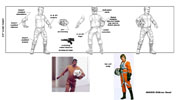 As we confirmed for the world all the way back at Celebration IV, Willrow Hood is coming to a store near you at some point. Recently, Willrow was slotted as a part of the second Empire Strikes Back wave of 2009. Being the home of all things Willrow, Hasbro was kind enough to send us the first preliminary images of what will be coming, as part of the latest Q&A. Exciting is hardly the word I would use!


Sunday, February 1, 2009 | Scott Pearson



Questions for Hasbro? - Session 63


Hasbro has sent us our answers from the latest round of the Q&A. Read on for all of the details!

Sunday, February 1, 2009 | Scott Pearson



&copy Copyright 2002-2021 JediDefender.com. All Rights Reserved.
Disclaimer | Privacy Policy