TIE Pilot

Sadly, the 1 per case Tanus Spijek is not in stock.


Monday, March 29, 2004 | Scott Pearson



Star Wars Shop Gift Certificates Arriving


The $50 Gift Certificates from StarWarsShop.com are starting to arrive for those who's orders the first day were processed and then cancelled. Along with the gift certificate are the two patches and some Clone Wars cards. No word yet on when the shop will reopen.


Monday, March 29, 2004 | Scott Pearson



New Playskool Confirmed!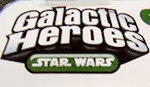 Mousedroid.com has confirmed what we first reported a few weeks back. New Playskool sets are indeed coming in the form of two packs. Also of note is that the old sets are being rereleased in the new Galactic Heroes packaging. Hasbro only showed old figures and new packaging, however, you can check out the prototypes we first brought you here! The original trilogy 2 packs will be: Luke & R2, Han & Leia, Darth Vader & Obi-Wan and Chewie & C-3PO. New prequel figures appear on the back of the packaging as well: Yoda & Clonetrooper, Anakin & Padme and Obi-Wan & Jango Fett.


Saturday, March 27, 2004 | Scott Pearson



Clone Wars TONIGHT!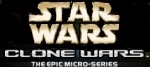 Just a reminder to tune in to Cartoon Network tonight for the return of the Clone Wars Animated Micro Series. Also head on over to the Official Site to check out the new Databank entries for the 2nd half of the series.


Friday, March 26, 2004 | Scott Pearson



Sandcrawler, New Y-Wing, Slave I and Darth's TIE Confirmed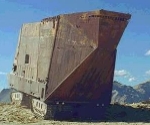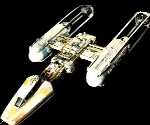 Issue #75 of the Insider confirms a slew of Exclusive vehicles for later this year. The long awaited (and oft delayed) Sandcrawler will finally be coming and will be packed with RA-7

and 2 Jawas

. The new Slave I will be an Empire Strikes Back decoed version of the AOTC ship. Also announced are a new ride for Dutch Vander and a Darth Vader's Prototype TIE Fighter to blast him out of the sky. No word on pack-in figures on the latter three ships. Stay tuned for more details as we get them! Since we respect the Insider's wish for this information to be exclusive, we will not post pictures of these vehicles. Head to your mailbox or out to the newstand to buy an issue ASAP!


Friday, March 26, 2004 | Scott Pearson



KEBco Toys News
Join the KEBco Toys One of Every Figure Club and buy Saga and OTC Basic figures for only $6.49 each. OTC Vintage are $10.49, Ultra figures are $11.99, Unleashed, 12 Inch and Vehicles are also available. Never have to worry about finding your figures again. There is no charge to join the club, just sit back and your figures are added automatically.

Visit www.kebcotoys.com today and the entire year for all of your action figures.

Thursday, March 25, 2004 | Chris Berry



Missing Figures: Episode I Padme Amidala






One of the most overlooked figures in the 2 Prequel Lines has been the lead female, Queen/Senator Padme Amidala. Hasbro has done so so with cranking out a few Padme figures a year but there is still many left to do. Click on the full story for a look at what's missing for Episode I.

Thursday, March 25, 2004 | Scott Pearson



Win Some Gentle Giant Animated Maquettes!


Previews and Diamond Comics are giving away some Clone Wars Animated Maquettes. The Grand Prize is a set of all 5 Maquettes starting with Yoda. Check the site above for the Mail-In Order Form and make sure your entry is in by May 1st, 2004! Good Luck!


Wednesday, March 24, 2004 | Scott Pearson



Red Leader @ TRU.com...Free Shipping!!!


TRU.com has free shipping available on their Exclusive Red-1 X-Wing w/ Red Leader. The retail price is $29.99 and the site has a ship date of 4/15/04 listed.


Wednesday, March 24, 2004 | Scott Pearson



Back In Stock @ K & C Collectibles
K & C Collectibles has received more of the 2004 Saga figures. Pre-Order the Stormtrooper watch this month. Save $25.00 over other
on-lines stores. Deadline for ordering is March 28th. New items include Rappertunie, J'Quille, Lando Calrissian, and many more!

Wednesday, March 24, 2004 | Chris Berry



Silver Clones Out?
Word from my local area would seem to indicate this. These have been spotted at a Pittsburgh area Toys R Us hanging on the pegs for $4.99. This is most likely a mistake by the store who just put them out like any other figure, so don't panic or scratch your noggin' going "huh!?", but it does let us know that these are indeed in the pipeline.

Tuesday, March 23, 2004 | Jesse McCracken



Brian's Toys Newsletter #247
Brian's Toys has posted their latest newsletter #247. New in stock are the 2004 exclusive Blue Clonetrooper Pilot mini busts at $274.99 each and the Kubrick carded droids R2-D2 for $159.99.

Tuesday, March 23, 2004 | Chris Berry



New Star Wars Trilogy DVD Packaging

The Official Site has finally released pictures to the public of the new DVD boxset packaging for the Original Trilogy due out on September 21st. The embossed cover art comes in Silver for the Widescreen enthusiasts, and gold for the doofuses that still prefer the ol' pan-and-scan version, with artwork of Vader on one side, and the Rebel heroes on the other. Looks good!


Monday, March 22, 2004 | Matt Colman



Clone Wars Animated Micro Series...Friday!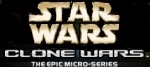 Just a friendly neighborhood reminder that the Clone Wars Animated Micro Series resumes this Friday on Cartoon Network in the United States. Head on over to the Clone Wars Website for show times in your area.


Sunday, March 21, 2004 | Scott Pearson



Wizard World L.A. - Clone Pilot SOLD OUT
Wizard World made it's West Coast debut this weekend, and as is often the case, handling of the convention exclusives, most notably the GG Clone Pilot bust, was far less than adequate. This hot collectible was completely sold out just 10 minutes after opening on Saturday morning. This was primarily due to Wizard's decision to allocate the bust at 2 per person throughout Friday's Preview Night, where the majority who scooped this item up were opportunistic investors, rather than Star Wars collectors unfortunately. So another major blow to Gentle Giant bust collectors. Looks like the usual trip to eBay for you, to fork your moolah over at about 400% of retail cost.

As for the rest of the convention, Star Wars was very poorly represented. A couple dealer booths here and there with some figures, but that was about it. But if you were a fan of comic books, Kevin Smith, or the upcoming Punisher and Hellboy movies, I'm sure it was paradise! Hopefully with Ep. 3 hitting next year, Star Wars will play a much bigger part. We'll see you then!

Sunday, March 21, 2004 | Matt Colman



More "New" Footage On Star Wars Original Trilogy DVD's?
The Digital Bits website has some interesting news on the Star Wars trilogy coming to DVD later this year. "We can say with some confidence now that when Lucasfilm and Fox release the Star Wars Trilogy on DVD in September, the films ARE going to include new footage. We've confirmed "unofficially" with three separate sources, each in positions to know, that at least SOME new footage is being added to the films, and that more special effects enhancements, tweaks and fixes are being done." Click the link above for the full story.

Thursday, March 18, 2004 | Dave Castle



Cloud City Spring Cleaning


Cloud City is offering 20% off most Modern Star Wars, Vintage Star Wars (except prototypes), Kenner Photography, and Acrylic Cases. Visit the cloudcity.com website today to take advantage of these low sale prices.

Also, donít forget to check out our eBay auctions for even better prices on cases, carded figures, and more.


Wednesday, March 17, 2004 | Chris Berry



KEBco Toys News
KEBco Toys has case assortments for the OTC Vintage and OTC Basic figures and Ultra figures. OTC Vintage cases $76.95, OTC Basic cases $64.95, Ultra cases $61.95.

For those that do not buy cases they also have one of the best prices on the net for individual figures and don't forget to ask about their popular One of Every Figure Club. Visit www.kebcotoys.com today and the entire year for all of your action figures.

Wednesday, March 17, 2004 | Chris Berry



Toy Designer For A Day!


Sick and tired of the recent trend of repacks? Want to get your pet project made as an action figure? Have a list of 50 pet projects? Cartoon Network has a contest where YOU can be a part of Hasbro's design team for a day! They even advertise that you have a chance to your own Star Wars toy from Hasbro. Thousands will play, few will win...oh man do I want to win this sucker! Unfortunately, the contest is only open for those between the ages of 6 and 18...Good Luck!


Wednesday, March 17, 2004 | Scott Pearson



K & C Collectibles News Listing
K & C Collectibles has received the latest Star Wars Ultra Deluxe action figures as well as the re-packaged Saga figures including Anakin Skywalker (Geonosis Hanger Duel), Darth Maul (Theed Hanger Duel), and Yoda (Battle of Geonosis. Continue reading for a full listing of all new items now online!

Tuesday, March 16, 2004 | Chris Berry



Imperial Shuttle at KBtoys.com for Cheap!
KBtoys.com just got some more Imperial Shuttles in stock and has them listed on their site for only $59.99 right here. So hustle on over if you still want one of these, and at a great bargain too!

Monday, March 15, 2004 | Matt Colman



Cantina 3 Packs
Canceled, released in limited quantities, Saga Recards, everything under the sun has been said about the 2nd Wave of Cantina Sets (Kitik Keed'Kak, Wuher and Dr. Evazan) once scheduled for Wal-Mart. Galactic Hunter's Swami last week said that there were 2 new sets of 3 packs in the works for the line.

This week Yakface has what looks to be a mock up of a possible 3 pack consiting of the very same Kitik, Wuher and Evazan. This will probably be an exclusive somewhere this summer/fall. Lets hope there is indeed a second 3 pack coming too! Rumored Cantina Figures include: Hem Dazon, Banniss Keeg, Bom Vimdin, Feltipern Trevagg and Elis Herlot. Stay tuned for more details as the arise!

Sunday, March 14, 2004 | Scott Pearson



Ultra Kamino Figures Arriving Now
For those of us (And there's a lot of us!) that missed out on the Deluxe/Ultra Kamino figures from some time ago, the repacks of them on the new Ultra cards are starting to ship. BomBadBoy, from my local Pittsburgh group, mentioned finding them at a local Target (Monroeville, PA) store today. Happy hunting for these. I know I still want a set since I hear the action feature actually works on these. How keen!

Thursday, March 11, 2004 | Jesse McCracken



StarWarsShop.com - From Bad To Worse...


Well, the highly anticipated launch of StarWarsShop.com was a complete and total bust. Things looked bad enough throughout most of their opening day, when their site was abruptly taken down after only a few hours, never to reappear. But to make matters far worse, they've just CANCELED everyone's orders placed during that time, due to some technical difficulties they were having. It really makes you wonder why the hell e-tailers can NEVER get it right when it comes to taking orders for Star Wars exclusives online... They never learn. Read on for the full, ugly scoop straight from the horse's mouth, or in this case, SWS.com's new main page...

Thursday, March 11, 2004 | Matt Colman



Code 3 Slave 1 (Almost) Available For Pre-Order

The super Star Wars die-cast ship builders over at Code 3 are just about to put their newest vehicle up for pre-order - Boba Fett's Slave 1! There's been a slight delay while they work out some glitches in their "Loyalty Rewards" program. So get ready to hustle on over to Code 3's site, and order yourself some high end Bounty Hunter transportation, if you so desire... Plus, rumors continue to circulate that the AT-AT's next up for this line!

Thursday, March 11, 2004 | Matt Colman



New Review: Jedi Luke (Jabba's Palace), Forces Its Way Into JediDefender


Well, it's been a while, huh? But I'm back with my latest review of the new Jedi Luke Skywalker figure from Jabba's Palace. Please feel free to click on the Review button off to your left to check him out.


Wednesday, March 10, 2004 | Jesse McCracken



Carded Endor Rebel Generals




Seller mimidog4428 has carded shots of the Endor wave up for bid. General Han Solo in AT-ST Driver disguise, General Crix Madine and General Lando Calrissian make up this wave of three figures. Look for these to hit the pegs in about 3-6 weeks time. In the mean time, keep your eyes peeled for the Star Destroyer wave due out any time now!


Wednesday, March 10, 2004 | Scott Pearson



UPDATE: StarWarsShop.com Now Open


One of the most anticipated website launches in some time opens up tomorrow. StarWarsShop.com will have loads of goodies when they go live (some time in the AM). Some of the highlights: