NEWS ARCHIVES
March 2012
---
1/6 Tusken Raider Coming Soon


Sideshow Collectibles announced they're making a 1/6 Scale Tusken Raider soon, and it looks impressive! Hasbro's figure actually isn't too bad, despite being quite old, but I'm sure Sideshow's is going to blow it away. Check out the teaser!


Thursday, March 29, 2012 | Jesse McCracken



New Class I Vehicles Found


Forumite MasterFisto recently scored something actually new. He reported in that he found the Republic Sub w/Scuba Clone, and Republic Scout w/Anakin at a Southern Wal-Mart. Good luck finding these in your area!


Thursday, March 29, 2012 | Jesse McCracken



New Carded Vintage Wave 15 Images




Our friends at Sandtroopers.com posted several early Hasbro images of Vintage Wave 15, which include the new Galen Marek, Shae Vizla, Grand Moff Tarkin, & Vintage Nikto. Check them out, and jump into Our Vintage Forums then to chat them up! EU and a questionable Tarkin figure will have fans talking about this wave a bit.


Wednesday, March 28, 2012 | Jesse McCracken



Your Final Boba Warning


We're sending out a final warning today that the deadline to get your Prototype Boba Fett is pretty much here! Orders must be postmarked March 31st, but I wouldn't wait to get it into the mail any later than Thursday morning at your local Post Office. Get off the pot folks!


Wednesday, March 28, 2012 | Jesse McCracken



New Star Wars Collector Book Listing


Amazon.com updated with the latest work from Stephen Sansweet! This is exciting for collectors around the world, and you'll want to get your pre-order in now for the Star Wars: The Ultimate Action Figure Collection: 35 Years of Characters book, set for release 10/17!


Wednesday, March 28, 2012 | Jesse McCracken



The Droids Are Back In Town


The Royal Starship Droids Pack is back in stock at Wal-Mart.com, and holding out now. However, we've gotten a number of reports around the country now that this set is being found again on Wal-Mart shelves! Seemed like a matter of time.


Tuesday, March 27, 2012 | Jesse McCracken



Fighter Pod Coupon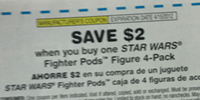 Forumite Tos Fe Zick alerted me to another coupon that arrived Sunday! Hasbro put out a flyer of coupons as well, and in it was one for $2 Off Fighter Pod 4-Pack. Waiting to pick up some of these cute little figures? Now is a good time to pick up one you wanted.


Monday, March 26, 2012 | Jesse McCracken



Sale Ads - 3/25 to 3/31



With Easter just around the corner, stores are rolling out the sales again! My local Target had numerous Star Wars items on sale, including All Basic Figures marked down to $7.99. This wasn't in their flyer, but it was marked in the aisles. Also, Toys R Us is running another B1G1 50% Off sale! Add in the Target coupon, and it's a good week to go toy hunting.


Monday, March 26, 2012 | Jesse McCracken



UPDATE: Target Star Wars Coupon Next Week


A heads up came my way from a Target Source that in next week's ad there will be a coupon for 50% Off A Star Wars Toy (Excluding Lego). Word has it the coupon is not a unique code, so you should be able to get multiple coupons and use them with multiple purchases. Either way, thanks for that heads up for Sunday!

UPDATE: We brought you word about the Target Coupon last week, and now it's out! Also, remember, Wal-Mart accepts competitor coupons, and today I successfully did that!


Sunday, March 25, 2012 | Jesse McCracken



Dave Filoni Talks Clone Wars


IGN.com did a pretty nice interview with Dave Filoni recently, and it's worth a listen! Sounds like some big things are in store for The Clone Wars next season, with some reveals coming this Summer!


Friday, March 23, 2012 | Jesse McCracken



Defender Wishlists 2012: Attack of the Clones


We're baaaack! JediDefender is proud to continue the 9th Annual Wishlists with a look at Attack of the Clones. All you have to do to take part in our latest poll is come up with your Wishlist for your top ten 3-3/4" figures. Either submit via our forums, on Facebook or via e-mail. Results will again be hand delivered to Hasbro at C6, so let the fun continue!



Wednesday, March 21, 2012 | Scott Pearson



Defender Wishlists 2012: The Phantom Menace RESULTS


Li'l Annie's Li'l Buddies, Kitster and Wald were the overwhelming choice for the top spot in this years 2012 TPM Wishlist. Check out the rest of the results in our forums!


Wednesday, March 21, 2012 | Scott Pearson



Target Star Wars Coupon Next Week


A heads up came my way from a Target Source that in next week's ad there will be a coupon for 50% Off A Star Wars Toy (Excluding Lego). Word has it the coupon is not a unique code, so you should be able to get multiple coupons and use them with multiple purchases. Either way, thanks for that heads up for Sunday!


Wednesday, March 21, 2012 | Jesse McCracken



Star Wars Scene-It Game Trailer


MTV.com's Geek News posted some info on the game that has fans buzzing a bit. Check out the link for a trailer to Star Wars Scene-It. There is sure to be some intense competition among fans once this game comes out and starts getting played.


Tuesday, March 20, 2012 | Jesse McCracken



Y-Wing Scout Bomber... A New Hope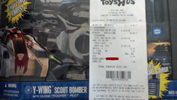 Friend and forumite Tos Fe Zick sent me a note today that he found a Deluxe Scout Y-Wing at a suburban Pittsburgh Toys R Us! It's tough to say where this little rare bird came from. It could have been a return, old stock found in the back, or that there are still some old cases of these in the pipelines. Either way, if you're out, it never hurts to keep your eyes open!


Tuesday, March 20, 2012 | Jesse McCracken



20% Off At Hasbro Toy Shop


Hasbro Toy Shop is running a 20% Off Sale on their site till April 1st! It applies to Star Wars, as well as other toys, so head over and stock up now while the savings is on!


Monday, March 19, 2012 | Jesse McCracken



Target Finally Price-Dropping Vintage


We'd heard a few earlier reports, and this weekend I noticed for myself that my local Target finally caught on that Wal-Mart has been beating them in the price wars. They finally dropped the Vintage Collection to $8.99, and this appears to be helping them sell through their stock a little faster. Now if only more Deleted Scene figures would ship out!


Monday, March 19, 2012 | Jesse McCracken



Wondercon Images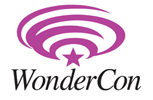 Our friend Mike Sullenger over at GalacticHunter.com took time out of his schedule to attend Wondercon, and has some great images posted. The show featured stops from LFL licensees like Gentle Giant, among others, and you really need to see what they debuted... Think Jumbo and Vintage, and you're going to want to see it!


Monday, March 19, 2012 | Jesse McCracken



Wal-Mart Deluxe Exclusives Land At Ross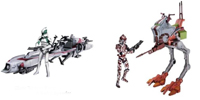 Thanks to Mike over at GalacticHunter.com, I was able to score not one, but two of the coveted Wal-Mart Exclusive AT-RT's at a nearby Ross store on my way home from work this evening! Oddly enough, no BARC Speeder, but who cares!? Thanks for the tip, and happy hunting to our readers.


Saturday, March 17, 2012 | Jesse McCracken



Fett's Deadline Looming


Have you ordered your Prototype Boba Fett yet? Well you'd best get on the ball with that! The forms must be post-marked by March 31st, so time is certainly running low to get your figure. Don't wait!


Friday, March 16, 2012 | Jesse McCracken



UPDATE: Early 2012 Vintage Wave 3 & 4 Images




We received a number of early carded images this evening from 2012 Vintage Wave 3 and 2012 Vintage Wave 4! These waves feature figures like Kithaba, Realistic Clone Wars Anakin, and the new Imperial Navy Commander! Click through to check them all out, and visit our Vintage Collection Forums for all the talk of these upcoming figures.

UPDATE: Added Malgus to the list!

Thursday, March 15, 2012 | Jesse McCracken



Sponsor News - EE Vintage Pre-Orders!


Site sponsor Entertainment Earth updated with a number of Hasbro Vintage pre-orders! Put your orders in for Vintage Wave 12 (2012 Wave 3), Vintage Wave 13 (2012 Wave 4), & Vintage Rev. Wave 13.1 (2012 Rev. Wave 4.1! Now, which waves suit you the most? Also, forumite smashwitdaclub reminded us of code 2101122 for $15 off!


Wednesday, March 14, 2012 | Jesse McCracken



The Clone Wars Season Finale - Revenge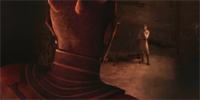 Get yourself over to the Official Site to check out the preview posted for this week's season finale of The Clone Wars. The episode is titled Revenge, and it looks like Kenobi's going to have his hands full!


Tuesday, March 13, 2012 | Jesse McCracken



Gentle Giant - Jumbo Vintage Death Star Droid


The latest offering from Gentle Giant Ltd. has been posted, and fans of the 12" Vintage figures will love this one! Check out the Jumbo Vintage Death Star Droid, get your pre-order in, and then hit up our Gentle Giant Forums to share your thoughts on this new, old, figure!


Tuesday, March 13, 2012 | Jesse McCracken



UPDATE: Target Discounts Star Wars Tech Goodies



Target is also having a Star Wars sale this week! At the dot, you can pick up the Star Wars Saga on Blu Ray for a low $80.00, and The Old Republic video game for a low $49.99!

UPDATE: Forumite smashwitdaclub let us know that The Old Republic is on Amazon still for $42 + Free Shipping right now as well, so even a better deal!


Monday, March 12, 2012 | Jesse McCracken



Toys R Us Sale - 3/11 to 3/17


Toys R Us is at it again, running a Buy-1-Get-1 50% Off sale this week on all Star Wars figures, and the sale seems to include multi-packs, role-play, and other toys! This is a great deal, so time to stock up and happy hunting!


Sunday, March 11, 2012 | Jesse McCracken



Anthony Daniels - Plug The Professor In!


Anthony Daniels was recently in my hometown of Pittsburgh at Steel City Con, but he had other reasons to be here. It turns out that Mr. Daniels is an adjunct instructor at Carnegie Mellon University! The golden one's interview can be seen on Pittsburgh's ABC Television affiliate's website, WTAE.com, and is worth checking out.


Thursday, March 8, 2012 | Jesse McCracken



Ashley Eckstein Is Ahsoka Tano


Actress Ashley Eckstein, the owner of Her Universe, passed along her first foray into costuming, and she dressed as none other than the product of her voice-over work, Ahsoka Tano! Read on to learn more about her experience, and let's hope her realistic styled Clone Wars figure turns out looking like this when it's released.

Thursday, March 8, 2012 | Jesse McCracken



Sideshow Collectibles - 1/6 Gree Deal


If you purchase the Sideshow Collectibles 1/6 Commander Gree by 11:59 P.M. Wednesday, you can get a $25 Gift Card with your purchase! This is a great deal but a limited time only, so order quickly!


Tuesday, March 6, 2012 | Jesse McCracken



Prophets Of Science Fiction - George Lucas


Wednesday at 10p.m., Prophets of Science Fiction on The Science Channel will have their season finale, and it's focusing on George Lucas! The episode will focus on Lucas' concept of The Force, and sounds fantastic!


Tuesday, March 6, 2012 | Jesse McCracken



Ralph McQuarrie Passes Away


Over the weekend Ralph McQuarrie, best known for his conceptual design work on the original Star Wars films, passed away at the age of 82. The news was announced on Mr. McQuarrie's Website. The concept artwork for the original Star Wars films is something cherished by fans of the Saga. Mr. McQuarrie will surely be missed by many people who knew him personally, but also those who admired and were influenced by his incredible work.


Monday, March 5, 2012 | Jesse McCracken



Wal-Mart Discounts 2012 Products Quickly


Reports began at Imperial Holocron that Wal-Mart was discounting 2012 Star Wars products pretty early, and we've received word from around the country now that this isn't as isolated an incident as first thought! What's your take? Share it with us in Our Forums!


Monday, March 5, 2012 | Jesse McCracken



Steel City Con Returns - Now!


Pittsburgh's Steel City Con returns to the Monroeville Convention Center this afternoon! Why do you want to attend? Because this show will feature Anthony Daniels, Billy Dee Williams, & Corey Dee Williams, Billy's son, stunt double, and "Klaatu"! It's a huge show this weekend, so check out the Steel City Con website and get here!


Friday, March 2, 2012 | Jesse McCracken



Hi-Res Looks At The Battlepacks


I also posted hi-res pictures of the new Movie Heroes Battlepacks in Our Forums for your viewing pleasure, or displeasure, depending whether you like them or not. Let me just say, increasing the resolution doesn't really help much.


Thursday, March 1, 2012 | Jesse McCracken



"Lost Line" Card Gallery


We also added a better image quality gallery of the Vintage "Lost Line" Cardbacks to our Toy Fair 2012 Coverage! They're really pretty cardbacks so it's an interesting direction for Hasbro to go. Check 'em out!


Thursday, March 1, 2012 | Jesse McCracken



Lego Builds To The Top


Good news for fans of Lego! The company beat its primary competition including our beloved Hasbro, as announced today on Lego.com. Check it out, and given what they create, it's easy to see why Lego is so dominant in the toy aisle.


Thursday, March 1, 2012 | Jesse McCracken



2012 TF Star Wars Presentation Available


The folks at Hasbro passed along the 2012 Star Wars Presentation to us from Toy Fair. Not much new is on it, but it does give good looks at the controversial new Battlepacks as well as the Vintage Concept Cardbacks that are pretty darn great! Click the link and check them out in our Toy Fair Coverage from this year!


Thursday, March 1, 2012 | Jesse McCracken



JD Give Away - Fangbone Ends Tonight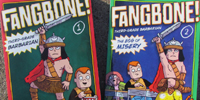 We have another Jedi Defender give away, and this one is a little different. Forumite Speedermike is a published children's author, and has generously donated 3 sets of the first books in his new series, Fangbone, 3rd Grade Barbarian! This is a great set of books to introduce to our fans and their kids. Click through for details, as the contest ends this Thursday!

Thursday, March 1, 2012 | Jesse McCracken



&copy Copyright 2002-2021 JediDefender.com. All Rights Reserved.
Disclaimer | Privacy Policy