NEWS ARCHIVES
April 2003
---
Star Wars Weekends Sweepstakes


This is a reminder to our readers that Hasbro is holding a Star Wars Sweepstakes for you and a friend! The contest includes an all-expense paid weekend at the Walt Disney World Resorts on June 6th-8th. Additional prizes include a "Yoda Prize Pack" and the Yoda Electronic lightsaber. This contest ends today, to enter and/or view the details click over to the Hasbro contest page. Good Luck!


Wednesday, April 30, 2003 | Chris Berry



Update: Kubrick Boba Fett Variant(s)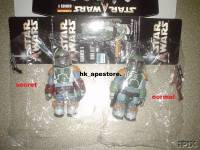 Continuing on with our Star Wars Kubricks coverage, we showcase the upcoming Boba Fett Kubrick variant, which is extremely short packed at a ratio of only 1:96 in the new Bounty Hunter assortments. Better expect to shell out a fistful of money for this elusive figure - it's going to be a toughie! First on the scene with this figure are a couple Hong Kong ebayers with these auctions. Go place a bid, if you dare!

UPDATE: And then there were TWO! A second "secret" Boba Fett Kubrick variant has now surfaced in these auctions. Check out our Full Story for the update on this new (second) variant...

Tuesday, April 29, 2003 | Matt Colman



Chewbacca Mynock Hunt and Han Solo Hoth Found


David Syczylo wrote in to let everyone know that he found the new Chewbacca Mynock Hunt and Han Solo Hoth Rescue along with Boba Fett Pit of Carkoon at Super Target today in Indianapolis. One Mace Windu Geonosian Rescue was also on the pegs. Thanks to David for the scoop!


Tuesday, April 29, 2003 | Chris Berry



Toy Fellas Discounts
Toy Fellas has reduced the prices on Star Wars Deluxe to $7.99, Sneak Preview Figures $5.99, all Saga EP II Vehicles have been reduced, and Reek mint $9.99 or not mint for $6.99. The Transformers Armada Maxcon Scavenger Mint $19.99 & Not Mint $17.99. All Supercons Mint $9.99 & Not Mint $8.00. Also take 5% off all orders when you mention JediDefender.com.

Tuesday, April 29, 2003 | Chris Berry



Collector's Gallery Online

Collector's Gallery Online has the Darth Vader Rubies Lifesize Replica along with Applause Vader, Han in Carbonite, Darth Vader, and Luke Skywaler Resin statues in stock. For full details read on.

Tuesday, April 29, 2003 | Chris Berry



Bounty Hunter Kubricks In Stock At Brian's Toys
BriansToys.com has the new Series one Bounty Hunter Kubricks In Stock priced at $13.99 and up. The Kubricks in this set include Bossk, Dengar, IG-88, and Zuckuss. Additionally, the Imperial and Sand Trooper 4 Packs are in stock. Head over to Brians Toys now and don't forget to let them know that JediDefender sent you!

Tuesday, April 29, 2003 | Chris Berry



Prototype A-Wing

A prototype A-Wing Fighter has shown up on eBay as seen in this auction. This is set for release as a Target exclusive later this year. More images can be seen by clicking on the auction link. Thanks to reader Nayr Treppel for the heads up.


Monday, April 28, 2003 | Chris Berry



Expanded Universe: The Final Prophecy

The latest novel in the New Jedi Order series, The Final Prophecy has been posted with details at Star Wars.com. The book, with cover art by Greg Keyes, is due out in October.


Monday, April 28, 2003 | Chris Berry



Code 3 Collectibles Millenium Falcon Pre-Order

Code 3 Collectibles, who makes amazingly authentic and intricately detailed miniature die cast replica vehicles (such as the recent Skywalker Ranch fire engine), is now accepting pre-orders for the first ship in it's upcoming Star Wars line - the Millenium Falcon. Though quite pricey at $295, this piece due out in September is sure to be a collector's dream! Head on over to Code 3's website for all the delicious details and to pre-order the fastest hunk o' junk in the galaxy today! Sorry, no pictures available yet though...


Monday, April 28, 2003 | Matt Colman



Jedi Guardians TCG Coming In July!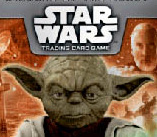 Wizards of the Coast will release Jedi Guardians, a new Star Wars TCG in July and it's all about the Force!

Sunday, April 27, 2003 | Thomas Grey




Sponsor News: Brians Toys Master Replicas In Stock
Brian's Toys has just posted their latest newsletter #199. The Master Replica Jedi Training Remote is on stock for $239.99. Dometic shipping is $12, these pieces are limited to 2,500 world wide.

Sunday, April 27, 2003 | Chris Berry



The New Guy
Hi, everyone. I was never too great at introducing myself, but here goes. As you can see, I'm the newest reporter here at JediDefender. My real name is Michael Goolishian, and I've been a fan of the saga for as long as I can remember. I'm told I have a knack for reporting, so expect reports on all things Star Wars-related. I'm very grateful that Chris allowed me to join the staff, and I won't let you guys down. Thanks.
Saturday, April 26, 2003 | Michael Goolishian



Star Wars Weekends Collectibles Are Back!


With the return of Star Wars Weekends at Disney-MGM Studios in Florida comes the return of the exclusive collectibles associated with it. From character pins to mugs, these Star Wars souvenirs are worth getting a hold of.

Saturday, April 26, 2003 | JediDefender Staff



A Giant Leap Forward for Star Wars Video Games?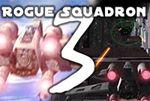 After finally laying eyes on the very first screenshots for the upcoming Nintendo Gamecube title, Rogue Squadron III: Rebel Strike, all I can say is "Wow." It displays a huge step in Star Wars games, and leaves the earliest video game incarnations of the saga in the dust.

Friday, April 25, 2003 | JediDefender Staff



Hasbro Star Wars Playskool Survey
Hasbro is sending it's website members a link to a detailed survey on their Star Wars Playskool line. It appears that they may not have completely given up on this line just yet after all. Based on the survey questions, they are looking into potentially releasing the prior figures, and possibly additional new ones, in 2-packs for $4.99 each. So fans of this line should cross their fingers - as there may still be some good things to look forward to in the future. But keep in mind that this was just a customer survey, so nothing is set in stone at this point. We'll be sure to bring you any developing news on the matter as it happens!

Friday, April 25, 2003 | Matt Colman



2003 Hasbro Release Dates Announced
StarWars.com has updated their "Cargo Bay" collector's database with many new release dates for Hasbro product through much of the remainder of the year. Included in the list are Saga and Clone Wars 4" and 12" figures and ships, Action Fleet, Star Tours and Unleashed. There's a few name changes, but unfortunately no new product announcements. Check it out if you need to know when those new Imperial Dignitaries are heading your way!

Friday, April 25, 2003 | Matt Colman



Interactive R2-D2 On Sale For $49.99


The Hasbro Interactive R2-D2 is the "Surprise of the Day" at KBToys.com. This super smart droid is on sale (today only) for $49.99, down from the original price of $99.99. You can't beat a savings like this! Head over to the KB Toys site before it is too late.

UPDATE: The one day sale for the R2 is now officially over. Congrats to everyone who scored on this great deal!


Thursday, April 24, 2003 | Chris Berry



Distribution Problems Or Employee Laziness?

Does your toy retailer never seem to get any new figures? This unencouraging trend seems to be spreading, and I've investigated some of the possible causes. Read through to be enlightened!

Thursday, April 24, 2003 | JediDefender Staff



Episode III Spoilerific News: Classic Trilogy Characters
Well, we are approaching the time of every fanboy's and fangirl's dream, the time when spoilers start leaking out of Lucasfilm and the filming of Episode III. This one has to do with some classic trilogy characters returning for Episode III. Click the full story for further details!

Thursday, April 24, 2003 | Scott Pearson



Return of the Fan Films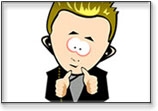 The Official Site has 3 previews posted of fan made films which will soon be available at the Atom Films website. If you remember back to last year when several films were featured at Celebration II, these films represent a continuation of such films as Troops and Figure Club. Enjoy!


Wednesday, April 23, 2003 | Scott Pearson



Ultimate Alien Anthology!
This month sees the release of the Ultimate Alien Anthology, the latest roleplaying game supplement from Wizards of the Coast. A huge collection of 180 alien species are detailed in this hardcover book, and along with its release, the StarWars.com Databanks have been updated as well, so come on inside for details.

Wednesday, April 23, 2003 | Brad Soldato



Bounty Hunter Kubricks: Out Now!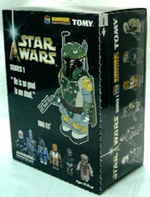 While checking eBay this morning I stumbled across a set of Bounty Hunter Kubricks which means they have been released overseas! See our feature story from a few days back if you are unfamiliar with the new cool little figures. Again these will not be released domestically due to licensing issues. Your best bet is to keep checking eBay for more sets to pop up!


Friday, April 18, 2003 | Scott Pearson



Star Wars Weekends Poster Art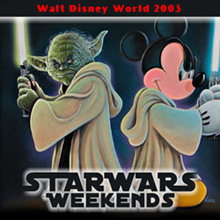 The Disney Star Wars weekends official poster has been released. This year Randy Noble is the artist whose work was chosen for the official poster. For more information on the Star Wars weekends, please click here. The new poster, along with posters from previous years can be seen in their entirety by clicking over to the official site.


Thursday, April 17, 2003 | Chris Berry



DarkHorse: Jedi - Shaak Ti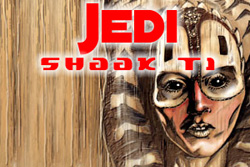 The Clone Wars continue to be chronicled by Dark Horse Comics with their second Jedi one-shot, Star Wars: Jedi - Shaak Ti. If you liked the Mace Windu story, you'll definately want to check this one out.

Thursday, April 17, 2003 | Brad Soldato



Deluxe Jango Fett Kamino Showdown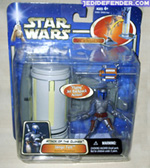 Our friendly forum member Cory "Jango Fettish" Hyman sent us an image of his recently acquired Deluxe Jango Fett Kamino Showdown that he purchased off of ebay. Cory is a Jango Fett fanatic and has one of the largest Jango Fett collections around. His site, Jango's Apartment lists many pieces of his vast collection. Enjoy!


Thursday, April 17, 2003 | Chris Berry



New Hasbro 12" Figures!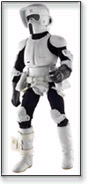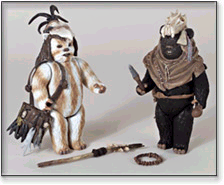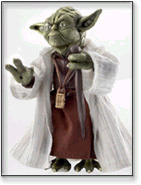 Hasbro updates this morning with some pictures of 5 new upcoming 12" figures to be released this Fall. First up is ROTJ Luke Skywalker, which features a lightsaber slashing action. There will also be a two-pack of Ewoks with lots of accessories. Logray is one of them and an unnamed Black Ewok is the other. For the first time, a Biker Scout will be released on his own, following it's previous release as a pack-in with the uber cool Speeder Bike in 2000. Finally, we'll be seeing a super accessorized Yoda, who comes with his Jedi Council chair, Jedi training screen, lightning, cane, and of course his lightsaber. Sweet job on all of these Hasbro!


Wednesday, April 16, 2003 | Scott Pearson



Japanese Kubricks


Everyone's favorite Japanese mini-figures are the latest topic in the JediDefender feature article. This time around the Star Wars Japanese Kubricks Early Bird Kit is displayed and commented on by our Scott Pearson. For an interesting read and some nice photos, click here.


Wednesday, April 16, 2003 | Chris Berry



Collector's Gallery Online News
Collector's Gallery Online has many new and exciting items in stock. Few items include the Episode 2 Yoda Lightsaber, Chewbacca Radko Ornament, X-Wing Pilot Riddell Helmet, Ephant Mon, Bossk PVC figure, and many more. Read on for all of the newest and hottest items!

Wednesday, April 16, 2003 | Chris Berry



Star Wars Fan Club Disney Breakfast: Press Release


Disney MGM Studios' Star Wars Weekends will begin on May 16th. As an update to the prior information that has been released (as seen on JediDefender here), the Official Site has just announced the full details on which guests are planned for each weekend.

In addition to this, Star Wars Fan Club members are entitled to enjoy a breakfast with Peter Mayhew, Jeremy Bulloch, and other Star Wars celebrities. Please read on for all the Fan Club breakfast details.

Monday, April 14, 2003 | Chris Berry



Star Wars Weekends Guest Information
Star Wars.com has posted the list of guests for each weekend of this summers Star Wars weekends.

The Star Wars weekends feature famous Star Wars guests, costumes, the Star Tours theme, and much more. Click through for the whole scoop!

Monday, April 14, 2003 | Chris Berry



A Piece Of Star Wars History!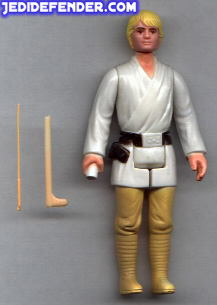 JediDefender Moderator Dale (DSJ) recently acquired a piece of Star Wars 3 3/4" Collecting History in a rare Vintage Double Telescoping Luke Skywalker. This variation was released in limited numbers and usually goes for large sums of money on auction sites. Click on through to our Forums for some more pictures and to discuss this neat figure!


Monday, April 14, 2003 | Scott Pearson



Cloud City Newsletter #1
JediDefender sponsor Cloud City has just sent out their first newsletter. Please click on through for the full details including Ephant Mon, Hoth Han and Chewie, Boba Carkoon and word of 'One of Each Club'!

Monday, April 14, 2003 | Scott Pearson



K & C Collectibles News Feed 4/14/03
K&C Collectibles has received the new Yoda Lightsaber this week.

In-Stock:
Ephant Mon Jabba's Head of Security
Trash Compactor Set
SP-4 & JN-66 - Research Droids
Padme Amidala - Droid Factory Chase
Tusken Raider - Tatooine Camp Ambush
Imperial Officer - A New Hope
Eeth Koth - Jedi Master
Teebo
Rebel Trooper - Tantive IV Defender
Darth Tyranus - Geonosian Escape
Obi-Wan Kenobi - Ackley Battle

Come visit our site at K&C Collectibles and get the latest Star Wars collectibles.

Monday, April 14, 2003 | Scott Pearson



Basic Saga Sale At Target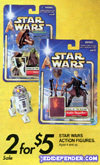 Target retail stores are having a 2 for $5 sale this week (effective from April 13-19) on basic Star Wars Saga action figures.


Sunday, April 13, 2003 | Chris Berry



First Look: Hunted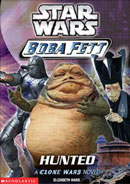 Young Boba Fett is alone on Tatooine, surrounded by criminals, mercenaries and thieves. He is determined to follow in his late father's footsteps and become the best bounty hunter in the galaxy. To do so, he must find the greatest crime lord of all: Jabba the Hutt. Come inside for the entire article and a look at the cover art.

Friday, April 11, 2003 | Brad Soldato



Cantina Wave 2 Sets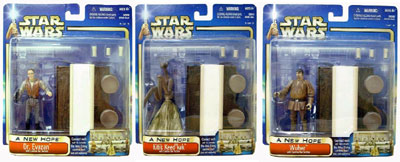 Word out of Hasbro is that Wave 2 of the Catina Sets including: Kitik Keed'kak, Wuher and Doctor Evazan will not be released domestically this year after they were failed to be picked up as an exclusive by Wal-Mart. That is some bad news for collectors everywhere. The good news is that they will be released in foreign markets and JediDefender sponsor Brian's Toys will be importing them for domestic sale. Check out the Cantina Sets pre-sell page for more detail here.


Friday, April 11, 2003 | Scott Pearson



StarWars.com - July Comics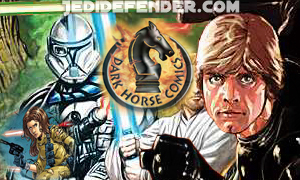 Here's a look at the upcoming comic titles filling out the summer months from Dark Horse Comics. I covered a few of the titles already on March 16th's Summer Comics Sneak Peak article, but there's a few new bits and peices, and of course, lots of pictures!

Thursday, April 10, 2003 | Brad Soldato



New Action Fleet Vehicles!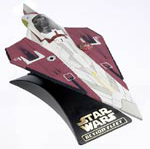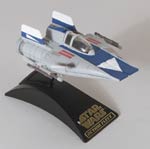 Three new Action Fleet vehicles will be flying into stores this fall including the Jedi Starfighter, Mon Calamari Star Cruiser, and A-wing Starfighter. Each vehicle comes with a unique display stand to show off the incredible authenticity and detail! Click inside for photos and ship-stats!

Wednesday, April 9, 2003 | Brad Soldato



Cloud City Newsfeed
Cloud City has just added thousands of new Star Wars items from both the modern and vintage realms of Star Wars. There are also still thousands of one-of-a-kind articles of original vintage Kenner photography available for puchase. This week we have added the following for sale; Han Hoth, Chewbacca Mynock Hunt, additional Boba Fett Pit of Carkoons, 12" Lando Skiff, 12" Han Solo, 12" AT-ST Driver. We are also expecting Yoda and Chian and Ashla and Jempa within a week. And coming next week; over 1,000 new Star Wars, GI Joe, Batman, and Transformers items. Visit Cloud City today!

Tuesday, April 8, 2003 | Chris Berry



Update: Collector's Gallery Online Product Updates
Collector's Gallery Online has many new and exciting items in stock. Read on for all of the details!

Update: Collector's Gallery Online is now taking preorders for the Obi Wan New Hope Lightsaber for $349, Luke Empire Lightsaber for $349.00 and & Darth Vader Empire Lightsaber for $349.00. All are FREE SHIPING, and come with cases. Get your orders in ASAP because they will sell out fast!

Tuesday, April 8, 2003 | Chris Berry



Hoth Rescue Saga 4-Pack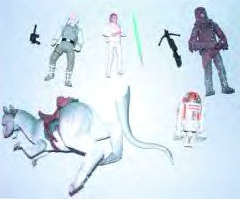 UK retailer Forbidden Planet has put up a pre-order listing for the new Rescue on Hoth Saga 4-pack due out in June, along with the picture above purportedly of the figures (which may not be finalized yet). This set includes a Tauntaun, orange R3 unit, and Hoth versions of Luke, Leia, and Chewie. For all the details or to place a pre-order, head over to their site, and scroll all the way down. Then swing by our forums, and chime in with your thoughts on this Hoth set!

Thanks to JD member Jared (SilverZed3) for the mention!


Monday, April 7, 2003 | Matt Colman



KB Toys 50% Off Sale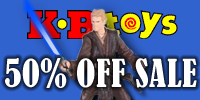 Beginning today, KB Toys is having a 50% OFF sale for selected Star Wars Toys. Sale prices are from $2.99 to $24.99 each, from the regular $5.99 to $49.99 each.

The selected sales items are:
Star Wars Star Fighter, Republic Ship, Speeder Vehicle, Anakin Skywalker Interactive Jedi Training Lightsaber, or Action and Electronic Figures

Special thanks to JD forum member Matthew (FishEyedLouie) for the heads up!


Sunday, April 6, 2003 | Brad Soldato



Greedo Shoots First... Say What?!?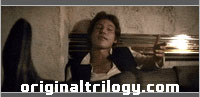 In case you haven't already heard, George Lucas has officially stated several times recently that he will NEVER release the "original" versions of the Star Wars Trilogy on DVD - only the revised Special Edition versions that came out much later in 1997. With fears of forever having to watch Greedo shoot first, Han trample Jabba, Luke scream like a little girl, and Joh Yowza's tonsils, a number of Star Wars fans (over 24,000 now in fact) have banded together in an effort to have the ORIGINAL versions of our beloved Trilogy released on DVD, in addition to the Special Editions.

You can throw in your voice of support for this most worthy and important plea right here, at OriginalTrilogy.com, where they are running an extremely popular petition to preserve George Lucas' original Star Wars classics which so many of us grew up on, and so many more of you love just as dearly! So swing by their site and sign the petition to support the cause! Hopefully we'll get our ORIGINAL Trilogy on DVD afterall...


Saturday, April 5, 2003 | Matt Colman



TIE Fighter - KB Toys Exclusive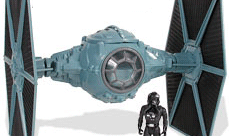 The KB Toys exclusive Saga TIE Fighter is now available for pre-order online through KBToys.com. This vehicle is going for $29.99 and will become available June 25th. Thanks to forum member "Nataku" for the tip!

Saturday, April 5, 2003 | Chris Berry



Defender Wish Lists: Episode II: Attack of the Clones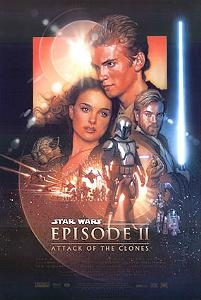 We are now taking your Wish Lists for 10 of your most wanted 3 3/4" Figures, be it new figures, resculpts or even re-releases. This month we take a long look at the most recent movie Attack of the Clones. If you need help coming up with names check out the Official Sites Databank: Episode II. Entries will be taken by e-mail: spearson@jedidefender.com or you can post on our Forums !!! Have fun and thanks for sending in your lists (remember to limit it to ten)!


Friday, April 4, 2003 | Scott Pearson



Official Site Databank Update: Thrawn Crisis


The Official Site updates today with a new Databank entry. Detailed in the Trilogy of Novels written by Tim Zahn, The Thrawn Crisis is one of the most loved pieces of EU in Star Wars fandom. Head on over to explore those events in more detail!


Friday, April 4, 2003 | Scott Pearson



DarkHorse This Month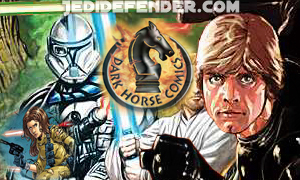 Just a couple of days tardy, click here to get a scoop on what DarkHorse is sending your way this month!

Thursday, April 3, 2003 | Brad Soldato



Win A Trip To Disney World... On Hasbro's Dime!
Hasbro is running a contest right now to win a trip for two to Walt Disney World for the Star Wars Weekend being held there from June 6-8. You can meet some of your favorite Star Wars celebrities, see a bunch of SW characters, ride Star Tours, and of course search for that coveted Wave 3 of Star Tours droids which should be out by then! So hurry on over to Hasbro's site to enter their sweepstakes right here. Good luck!

Wednesday, April 2, 2003 | Matt Colman



Defender Wish Lists Results: Episode IV: ANH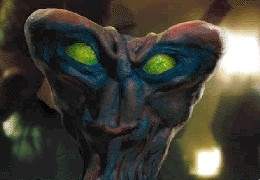 The results are in and the lists have been tabulated! The leader of the pack is the first alien seen in the Cantina scene, the Arcona named Hem Dazon. Rounding out the top ten which favors that bar far far away rather heavily:

1. Hem Dazon (Cantina Patron)
2. R1-G4 (Purchase of the Droids)
3. Tonnika Sisters Two Pack (Cantina Patrons)
4. CZ Droid (Seen walking the street of Mos Eisley)
5. Red Leader (Rebel Pilot)
6. General Tagge (Imperial Officer)
7. Bom Vimdin (Cantina Patron)
8. Dannik Jerriko (Cantina Patron)
9. Gold Leader (Rebel Pilot)
10. Feltipern Trevagg (Cantina Patron)

Thanks for the lists and look for Defender Wish Lists: Attack of the Clones to start very soon!


Wednesday, April 2, 2003 | Scott Pearson



Darth Tyrannus Speeder Packaging Variation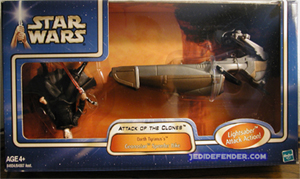 JediDefender.com reader Jason Tremba sent in this interesting packaging variation for the Darth Tryannus Speeder he found at a Target in Albuquerque, New Mexico. The inner packaging apparently was put in upside down, thanks for the interesting find!


Tuesday, April 1, 2003 | Chris Berry




KEBco Pre-Orders
KEBco Toys has the new Saga Cinema Scenes, Clone Wars Army Builders and Vehicles available for Pre-Order. The newest 13 basic 3.75" figures are still listed for Pre-Order along with Factory Cases.

Tuesday, April 1, 2003 | Chris Berry



Update: April Fools! Episode III Release Date Moved Up!
Shocking fans everywhere, George Lucas announced this morning at the Official Site, that the final Episode of the Star Wars saga will be released this Christmas! He has decided he had enough stock footage and effects done from the previous 5 films that he only had a little left to do including the pivotal scene where it is revealed Yoda is Darth Maul's cousin! Looks like it will be a Merry Christmas for all Star Wars fans everywhere!

Tuesday, April 1, 2003 | Scott Pearson



&copy Copyright 2002-2021 JediDefender.com. All Rights Reserved.
Disclaimer | Privacy Policy