NEWS ARCHIVES
September 2008
---
Steel City Con Finds a New Home


Pittsburgh's Steel City Con returns this October, but with a twist. Click on through for all the details on the new location, the new days, and all the other details of this fantastic show for Star Wars fans!

Tuesday, September 30, 2008 | Jesse McCracken



Clone Wars Preview Tonight


Airing tonight on Cartoon Network is a Clone Wars 3D Preview to get everyone acquainted with the upcoming television series (if you aren't already). Check your local listings to be sure, but it's listed as 8P.M. eastern time on my cable locally!


Friday, September 26, 2008 | Jesse McCracken



Boxed Legacy Exclusives Photos



Our anonymous sources dropped off a couple new photos of two Legacy Collection exclusive items on the horizon. Click the thumbnails above to check out the Wal-Mart A-Wing Fighter and the Previews Crimson Empire boxed set. Both are shaping up to be pretty nice exclusives with something new to entice collectors!


Thursday, September 25, 2008 | Jesse McCracken



Boxed Legacy Battlepack Photos



Our anonymous sources dropped a couple pictures of upcoming battlepacks in my in-box over the weekend. Check out the Assault on the Bo'Omar Monestary and the Assault on the Shield Generator sets. Sadly, as you can see in the images, both packs are down to only four figures as Hasbro said they'd be doing to save money.


Monday, September 22, 2008 | Jesse McCracken



Legends of the Saga Boxset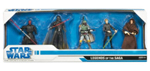 Big Bad Toy Store has updated their site with a preorder for a giftset that would be ideal for the collector or child looking for some of the most popular characters. The Legends of the Saga includes five of the biggest names in the Star Wars universe - Darth Maul, Darth Vader, Boba Fett, Luke Skywalker and Obi-Wan Kenobi. This is expected to arrive next month, so head over and get in your preorder now!


Tuesday, September 9, 2008 | Jesse Wall



Sideshow Fall Fantacular: Endor Rebels Giveaway


Sideshow Collectibles has announced their latest Fall Fantacular Giveaway. From today until September 16th you can enter to win the full set of three Endor Rebel Troopers. Head on over and enter for your chance to win!


Monday, September 8, 2008 | Ryan Phipps



Questions for Hasbro? - Session 59


On August 22nd, we sent another batch of questions to Hasbro for their Star Wars Question and Answer feature. Today, we've got the answers to those three questions!

Friday, September 5, 2008 | Jeff Smentek



&copy Copyright 2002-2021 JediDefender.com. All Rights Reserved.
Disclaimer | Privacy Policy