106
« on: June 24, 2016, 04:35 PM »
I wanted the ROTS set as well for a Palpatine throne room. Years ago, I even contacted whatever company in the UK that was distributing it - they had a preorder for it for a long time before finally taking it off their website. I thought the ROTS and Jabba sets looked the coolest. This was a nice concept, but I didn't like the first set because it was too vintage-esque for me.
Like I said in my earlier post in this thread, I've given up on Hasbro on this front in any capacity whatsoever. I hope somehow Disney farms out something to a company that could figure it out someday, but I see this whole concept as a missed opportunity and "what could have been" - and expect it to always be that way now. The only way it will ever really succeed is if someone puts the resources in to do it right rather than the handful of half-ass attempts Hasbro has grudgingly done in the past.
Anyone buy any of the McFarlane Walking Dead lego-esque sets that actually look realistic? I've bought a few. Would think that would be an awesome concept for 3.75" scale stuff. Also the Galactic Merchants stuff is fun. But they couldn't keep up with the demand/etc.
I've been buying cool stuff from HoleinthegroundPro for a while now. It requires some painting on your own skills, but it's fantastic stuff.
Next set from them I plan on picking up is this: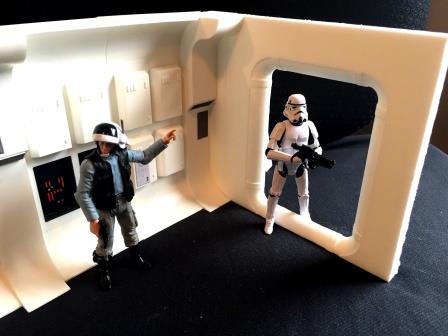 http://www.holeinthegroundpro.com/dioramas.html