1
« on: May 6, 2009, 01:04 PM »
Not sure where to post this, but it's vintage and this is the only vintage section.
So, after being in the Stormtrooper focus arena for several years, I've trimmed and whittled my collection over the last year+. My collection previously consisted of the following:
Star Wars 12b
Star Wars Harbert 12
Star Wars Takara 12
Star Wars 20b
Star Wars 20g
Star Wars 20h
Empire Strikes Back 31b
Empire Strikes Back 41a
Empire Strikes Back 41e
Empire Strikes Back 47
Empire Strikes Back German 45
Empire Strikes Back 48c
Return of the Jedi 65b
Return of the Jedi 65c
Return of the Jedi Palitoy 65
Return of the Jedi Top Toys
Return of the Jedi 77a UP
Return of the Jedi 77a P
Return of the Jedi 77b
Return of the Jedi 79a
Return of the Jedi 79b
Return of the Jedi Tri-logo
Power of the Force
Plus an ESB Proof and the POTF Stormtrooper Coin Sculpt and Stage 1 Hardcopy.
Needless to say I was happy and proud of my collection. However, with age and family come different priorities, and for me, this meant that I just wasn't able to keep up and add to my collection. I came to the realization that many other collectors would probably appreciate these items much more than I. So, I began to whittle. First to go was the Sculpt and Hardcopy to a fellow Left-Coaster with a Trooper focus, then some of the ROTJ went, the ESB and the SW and POTF, peppered with various foreign cards here and there. I believe a lot of what I had is now under the watchful eye of another Trooper collector in Texas, but there are others around the globe.
Now for my current collection.
As I was whittling, I came to the further realization that I did not want to just jettison everything. So, I picked just a handful of items that I could easily save and appreciate. I thought it would be a neat idea to have one card from each series (SW, ESB, ROTJ) that I personally chose as my favorite (and most pristine). And in addition, I just couldn't part with my ESB proof card. And to further enhance them, I had 'em graded by AFA. I don't know why, but for me, having a grade on these just seems like a fitting tribute to my collection.
So, without further ado, my current Stormtrooper focus collection: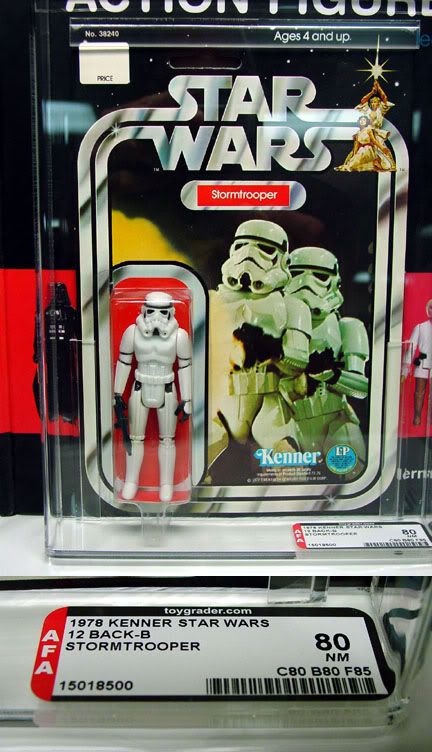 Star Wars 12 B - AFA Graded 80 C80 B80 F85
Empire Strikes Back 48 C - AFA Graded 90 (yes, 90!) C90 B85 F90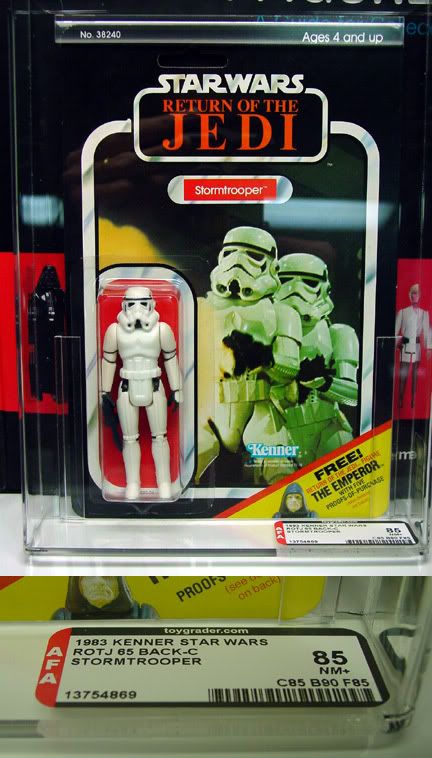 Return of the Jedi 65 C - AFA Graded 85 C85 B90 F85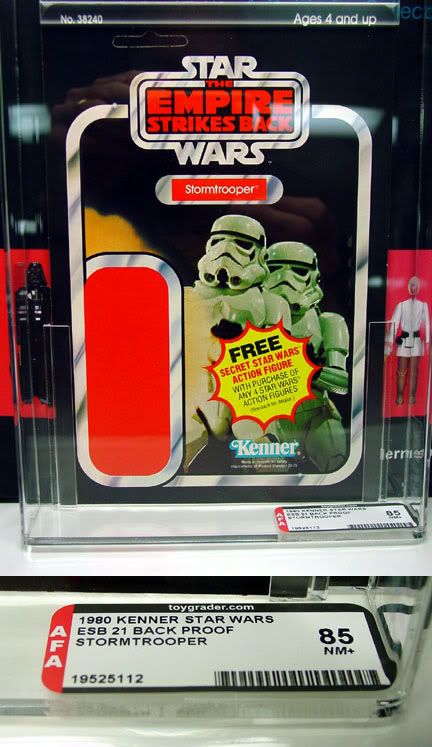 Empire Strikes Back 21 Proof Card - AFA Graded 85