361
« on: June 9, 2008, 09:38 AM »
Ugh... good luck tracking down all 16 of these little buggers.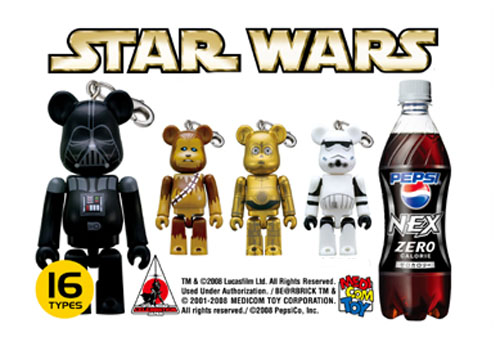 For those unfamiliar with the Pepsi Nex promo be@rbricks, they are free promo items included when you purchase a 500mL bottle of Pepsi Nex in Japan. Over in the "other Kubricks" thread, evilalive has a nice pic of the last promo series,
Pepsi Nex x Fox
, which was based on some fox movies/shows.
These be@rs are usually 65-70% the size of the regular be@rs and they often have the clip screwed into their heads (as seen in the pic). From what I have gathered so far, these will be included with Pepi Nex bottles sold at Celebration Japan and there will be
16
different be@rs:
- Boba Fett
- C-3PO
- Chewbacca
- Clone Trooper (Ep2)
- Clone Trooper (Ep3)
- Darth Vader
- Darth Maul
- Jango Fett
- R2-D2
- Stormtrooper
- TIE Fighter Pilot
- Jawa
- Wicket
- Yoda
- Imperial Logo
- Rebel Logo
As if I didn't already have enough stuff to waste money on this summer...