421
« on: July 22, 2004, 11:01 PM »
Onto Artoo...
I have to say I'm really disappointed in our ROTJ version of Artoo. I was hoping for an ultimate opening swiss-army R2. The "chrome dome" is probably Hasbro's attempt to add perceived value to the figure, but its inacuraccy leaves the Bar2 still a superior figure. The arm is a nice feature, looks like it may connect magnetically from what I can see. I assumed there would
have
to be a sensorscope, though. I'll have to pass until they rehash it somewhere down the line...
And that's all from an opener's point-of-view. If I were a carded collector, I'd be royally upset with them for changing the card text from the vintage version! If they were going to change something, they might as well have used the much nicer looking "Star Wars" card image with a ROTJ logo.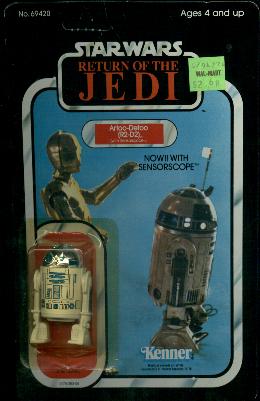 <--That's no "extension arm!"