NEWS ARCHIVES
November 2004
---
Insider 79 Arrives With Wookie Rage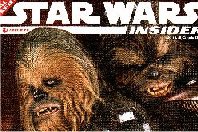 The latest Star Wars Insider arrived on my doorstep while I was at class this afternoon. It's a nice surprise when I get home, and is jam packed with lots of Star Wars prequal goodies.

Of particular interest to you collectors is a nice slew of images of the preview figures and vehicle. Also there's a nice concept drawing that shows those not in the know just how Hasbro toy designers sketch out the figure first before they go into production. Very informative on a certain whiney pre-Sith's figure for Episode 3.

Of course the regular columns, prequal updates, stories, and a whole bunch of Wookies are in this issue as well. As always, keep your eyes open for your subscription in the mail, or hit up your favorite news stand to grab a copy!


Tuesday, November 30, 2004 | Jesse McCracken



Hasbro's New Titanium Series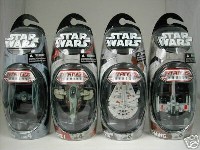 Hasbro updates today with official word on the upcoming Star Wars Titanium Series. This line of die-cast Star Wars vehicles is set to debut next year along side the Episode 3 preview figures. While the first wave includes repaints of older PotF2 sculpts of the Falcon, a TIE Fighter, Slave 1, and an X-Wing, watch for wave 2 in Spring 2005 to contain brand new sculpts!


Tuesday, November 30, 2004 | Jeff Smentek



RotS Galactic Heroes!
Seller starfans888 has a few new Revenge of the Sith based Galactic Heroes figure prototypes for sale on eBay. Click on through to the auctions for a closer look at 4 new figures - Anakin, The General, Dooku, and The Emperor!

Tuesday, November 30, 2004 | Jeff Smentek



BigBadToyStore Has Cantina Wave!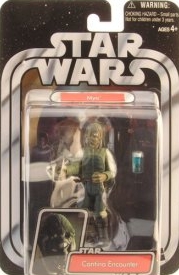 JediDefender Sponsor BigBadToyStore has the Cantina Wave of 2005 In-Stock and ready to ship!

2005 Basic #6: Feltipern Trevagg
2005 Basic #7: Myo
2005 Basic #8: Dannik Jerriko

UPDATE: SOLD OUT!

Also in stock is the hard to find

2004 OTC #38: Imperial Scanning Trooper



Tuesday, November 30, 2004 | Scott Pearson



Kubrick Series 3


One of the best new things to hit Star Wars collecting in the last 2 years has been the ever expanding Kubrick line from Medicom of Japan. Closing in on 40 total figures, the Kubrick collection swelled recently with the release of Series 3. Head on in to our new Feature for all the details on Series 3 as well as what to expect next!


Monday, November 29, 2004 | Scott Pearson



From Art To Finished Product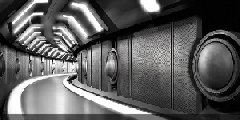 With Knights of the Old Republic II due out pretty soon, I thought this link to an article about the "Art of KOTOR2" might be a fun read for some of you. Concept art for video games yields some interesting views into how the game developers create the game itself.

I liken it to looking at Ralph McQuarrie's art towards the Star Wars Trilogy. There's some great concepts and details that sometimes don't find their way into the games. Click the sketch above and read the article to learn more.


Saturday, November 27, 2004 | Jesse McCracken



Happy Thanksgiving
From all of us here at JediDefender.com to all of you, warm wishes for a happy and safe Thanksgiving. Not that you need a reminder, but tomorrow is the busiest shopping day of the year - otherwise known as Black Friday. If you are brave enough to go out to the mall, or the toy store, why not stop by the forums and let us know what you found?

Thursday, November 25, 2004 | Dave Castle



New JD.com Review: General Jan Dodonna


Up next is Jan, the Man! Everyone's favorite old fart is back, and ready for review. Will he match up to his officers (Antilles) in all their glory, or wind up like his grunts (Fleet Troopers) who we all know suck? You will just have to read the review by clicking Dodonna's big old head above, and find out for yourself.

Thankful you have me to show you the way? I thought so. Now eat some turkey after you read this review, fool!


Thursday, November 25, 2004 | Jesse McCracken



Planning Your Episode 3 Bookshelf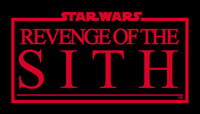 The Official Site updates today with a long list of book titles that will be arriving in stores to coincide with the release of Episode 3: Revenge of the Sith. WARNING: POSSIBLE SPOILERS!! Click on for the full report.

Thursday, November 25, 2004 | Dave Castle



Wal*Mart Exclusive Master Replicas Mini Obi-Wan Weathered Lightsaber Arriving Now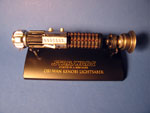 A few forum members (including myself) are reporting the the Wal*Mart Exclusive Master Replicas Mini Obi-Wan Weathered Lightsaber is starting to arrive. Click on for a few more pics and a mini-review.

Wednesday, November 24, 2004 | Dave Castle



Amazing Cloud City Custom Diorama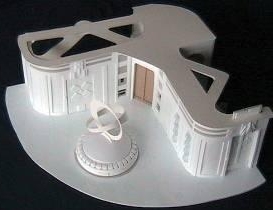 JD forum member Muftak has completed the first level of his custom Cloud City Diorama. He's posted the pics in our Forums for everyone to enjoy. Bobb was also the creator of the supremely jaw dropping Death Star. Kudos on the amazing work Bobb and we'll keep you posted as updates occur.


Wednesday, November 24, 2004 | Scott Pearson



Yaaaaaaaaaaaaargh (or 12" Chewbacca)


Seller hotreals has some excellent loose shots of the upcoming 12" VOTC Chewbacca. Chewie will be a KB Toys Exclusive and packed in the same Retro Vintage Packaging as Luke, Boba Fett and Stormtrooper. Look for him soon at a KB near you (if there are any left) or on-line at kbtoys.com.


Wednesday, November 24, 2004 | Scott Pearson



Ewoks, And Droids, And Wilford Brimley... Oh My!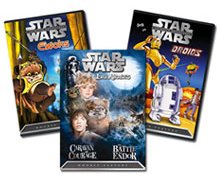 Just a reminder for you who are willing to brave the shopping world at this point in time, that the Star Wars DVD's are out and about at retail. They include the Ewok and Droid Cartoon series DVD's, and the Ewok live-action films on DVD as well. For those unwilling to hit the stores, ShopStarWars.com is also an option!

A thanks to Tydirium for even reminding me these were out when I read a post of his in our forum thread on DVD's. Another thing to add to my list since I've been sort of decent this year... well, kinda anyway.


Wednesday, November 24, 2004 | Jesse McCracken



Holiday Jawas Arrive at EE


Reports are coming in that the first batch of Holiday Jawas has arrived at Entertainment Earth! Be sure to check your order status if you pre-ordered these festive scavengers to see if yours will arrive soon! If you haven't grabbed one yet, just head on over to EntertainmentEarth.com to order yours today!


Tuesday, November 23, 2004 | Jeff Smentek



KOTOR Folow-Up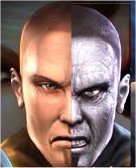 A little (well, big really) update on Knights of the Old Republic 2: Sith Lords is that the game's finally gone gold. Click the ominous image above of the choices a Jedi must make in life to go to the official site for KOTOR2 and read all about the game, and its expected release date on December 6th.

Just in time for this KOTOR fan as a lovely holiday gift. *hint hint*


Tuesday, November 23, 2004 | Jesse McCracken



Koto Sandtrooper


Slave1 also has pictures posted a picture of the upcoming Vinyl Kotobukiya Sandtrooper that we first reported back in late August. Look for a Tusken Raider as well some time in 2005.


Tuesday, November 23, 2004 | Scott Pearson



TRU Kubrick Box Set


The Japanese website Slave1 has posted a nice new picture of the upcoming TRU exclusive Kubrick box set from the WCC Festival in Japan. This latest entry in the Star Wars Kubrick line is due in December and only available in Japan!


Tuesday, November 23, 2004 | Jeff Smentek



Solid Game + Good Story = Smash Hit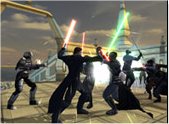 Currently at StarWars.com is a nice little write-up on the upcoming sequal to the award winning Knights of the Old Republic, and the way in which the story is integral to the game. Few casual gamers know of the integral value of a game's story, but this little article is a great eye-opener.

KOTOR2 sounds like it will be a real nice story too (and a good game), so here's to seeing this hotly anticipated chunk of EU released soon! Click the image above and read on about this dandy title.


Tuesday, November 23, 2004 | Jesse McCracken



Jedi Scene 3 and 4 arrive!


TRU's exclusive Jedi Council Scenes 3 and 4 are in-stock and shipping from Amazon.com and this reporter received his sets in the mail today. Click on the thumbnail photo above for a look at the assembled 6-piece Jedi Council circle and be sure to head into the JediDefender forums to share your thoughts on these re-hashed Jedi sets!


Tuesday, November 23, 2004 | Jeff Smentek



Episode 3 Model Kit Pics



Sci-Fi modeling website CultTVMan.com has found a few images of some Episode 3 model kits. Click the above link or the full story link for the pics. BEWARE: Possible Spoiler alerts!!

Monday, November 22, 2004 | Dave Castle



Holographic Leia Kubrick


Simon Dunn from our Forums has found a shot of the brand new Holographic Princess Leia Kubrick that was just released today at the WCC Festival in Japan. Leia is limited to 500 pieces at the show, with another 1,504 available later this year via the Medicom collectors club.


Sunday, November 21, 2004 | Scott Pearson



SportsCenter Gets A Tech Upgrade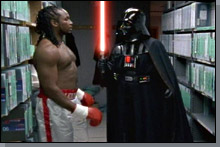 Any ESPN watchers out there? Judging by the popularity of our sports threads here in the JD forums, I'm going to go out on a limb and say "yes" to that. If you do watch ESPN, keep your eyes peeled for a new commercial for SportsCenter that features some characters from our favorite films.

Pretty funny stuff. And if you don't watch SportsCenter, well hot diggity! You are in luck, as the commercial is up at StarWars.com for everyone to view as we speak. Just click the image above, download, and enjoy.


Saturday, November 20, 2004 | Jesse McCracken



Episode III Figure Release List?

The French Star Wars site StarWars-Universe.com has posted a rather lengthy release list of upcoming ROTS toys! Click for more and beware of Spoilers!

Friday, November 19, 2004 | Scott Pearson



Wake Up with the Sith


Are you ready for Black Friday, the busiest shopping day of the year? Are you looking for a reliable wake-up call to make sure that you don't oversleep and miss the doorbuster bargains? Well then, this one's for you! Target has set up a website where you can register for a free wake-up call from a number of celebrities, including Darth Vader! Head on over now to register for your wake-up call from the Dark Lord himself!


Friday, November 19, 2004 | Jeff Smentek



Just In From Collector's Gallery Online
Collector's Gallery Online now has many new items in stock such as the Rubies Yoda bust, Chewbacca Attakus statue, Clone Wars Anakin, Yoda & ARC trooper 3" figures, and Estes R2-D2. Additional products include the TIE Fighter & X-Wing Fighter model rockets, 4 vintage Star Wars coca-cola tumblers, Slave 1 reissue model sealed & loose radar laser cannon. Check it out for yourself!

Thursday, November 18, 2004 | Chris Berry



Brian's Toys Latest News!
Just in this week at Brian's Toys, the latest edition to the Clone Wars animated series Maquettes, General Obi-Wan Kenobi. Also just in is the OTC boxed Slave I, Jedi Council 3 and Jedi Council 4. Also back in for only $79.99 is the Mexican Luke & Yoda. New with 2nd cards, we have Mace Windu, Darth Vader and Count Dooku Unleashed now in stock all for $29.99 each.

Thursday, November 18, 2004 | Chris Berry



Special Offer @ K & C Collectibles
K & C Collectibles has a very special item this month for pre-order, the Episode II - European Kellogg Figure Set. This rare European Kellogg's Star Wars Episode II Figure & View Master Set features six 2 ˝" tall figures featuring your favorite Episode II characters including Anakin Skywalker, Padme, Obi-Wan-1, R2-D2 & C3-PO, Boba Fett and Darth Vader! When you look inside each figure you can see a full-color picture of each of the Star Wars characters as in a view master.

Inside Anakin is Darth Vader; inside Padme is Luke Skywalker & Princess Leia; inside Obi-Wan is Alec Guinness; inside Boba Fett are Clone Troopers; and inside Darth Vader is a young Anakin! This set is difficult to obtain, and was only available for a limited time through a special offer in retail boxes of Kellogg's cereal in Europe! Don't miss out on this unique Star Wars Collectible shipping in February 2005.

Thursday, November 18, 2004 | Chris Berry



Clone Wars Animated Figures Wave 3


JD sponsor Entertainment Earth has put the 3rd Wave of Animated Clone Wars figures up for pre-order. One new suprise, the clone trooper, previously white, will now come in red, blue and yellow paint schemes! Click here to pre-order now! These are due in January 2005


Wednesday, November 17, 2004 | Scott Pearson



Wal*Mart Exclusive Master Replicas Mini Obi-Wan Weathered Lightsaber In Stock NOW!!


The Wal*Mart Exclusive Master Replicas Mini Obi-Wan Weathered Lightsaber (say that 3 times fast) is in stock now!! Limited to 500 pieces in the U.S. and only available at Wal*Mart.com, these are sure to sell out quickly. Click here to order one. Thanks to forum member DualSaberMaster for the heads up.


Wednesday, November 17, 2004 | Dave Castle



Jedi Force X-Wing Exclusive Out Now!


The latest offering in Playskool's new Jedi Force line is now available at Playskool's eBay Store! The eBay exclusive version of the Jedi Force X-Wing includes Luke Skywalker and R2-D2 and is limited to 5000 units. A regular edition of the X-Wing (minus Luke and R2 pack-in figures) will be available at retail stores later in the year.


Monday, November 15, 2004 | Jeff Smentek



Episode III Carded Figures!!!



The Toy Vault out of Rhode Island has posted the first known shots of carded Episode III figures. Shown above are Mace Windu and Obi-Wan Kenobi from the regular Episode III line and R4-G9 and Tion Meddon from the Preview Wave. On the card backs you can vaguely make out 9 more figures coming in the first wave. Head on in for more speculation, beware of spoilers!

Monday, November 15, 2004 | Scott Pearson



Jedi Council, Coruscant and Naboo Waves at TRU.com
Now in stock at TRU.com