1
« on: September 28, 2010, 05:27 AM »
First time poster - long time reader...
Hey guys - have to say this customiser nailed it for me. As was said before - it's the eyes and ears that never seemed right on so many modern figs.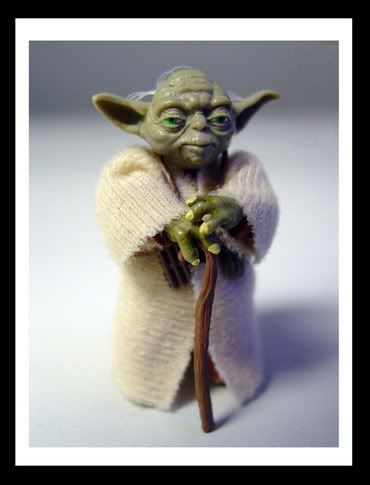 Constructed from:
1) POTF II "Flashback" Yoda (Head (Hollowed-out for ball-jointed use / rooted hair carefully trimmed) cooking pot, lamp)
2) OTC "vintage style" Yoda (Full body, cloth brown skirt, necklace-amulet, Gimmer stick cane, snake) *
3) Vintage Kenner Yoda (Cloth tan robe, belt pouch details) *
Custom by Darklord:
http://www.sandtroopers.com/smf/index.php?topic=4774.0
It's just the right elements. I'm tempted to do it myself... although whenever I do a custom Hasbro finally get round to improving the figure in question (last time I grabbed the VOTC luke, filed the neck down, added the medical frigate head... months later they fixed it up!!! Argghh!).