421
« on: July 10, 2006, 02:12 PM »
Chewie, Jedistyle, many thanks as well for the nice comments on this Jedi Master. I'd like to think he was on the Council some 200 years before the events in RotS.
The parts used for this figure were:
- Entire body + head: Valorum (tuff of Valorum's hair cut off)
- Arms: a Qui-Gonn figure. Not sure which one, but any human Jedi arms would work I guess.
- Lightsaber: Qui-Gonn saber, hilt modified a bit to remove it's Qui-Gonn look
- Belt pocket: from AotC Obi-Wan Pilot (that insanely crappy figure)
- Belt: from those plastic rings that hold six-packs together
- Hair: sewing thread
I just made tutorial pics on how to make the removable blade. When I wanted to make pics of how to make the D-ring, the batteries of my camera went dead. And so did the back-up batteries

.
Anyway, here's how I made a Qui-Gonn Ep1 blade into a lightsaber with removable blade:
Take your 'fixed-blade' of choice: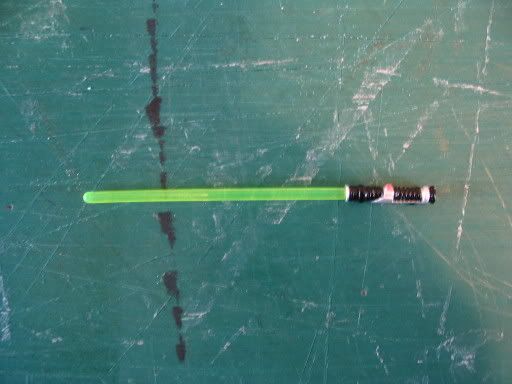 Cut the blade off precisely at the emitter. Using a pick or a push pin, make holes in the blade and the hilt, in a manner that the holes are at the same position on both parts. Do this very carefully, by gently but firmly twisting the pick/pin in the parts. Only has to be 3 or 4 mm.:
Take a paperclip and superglue one end in the blade: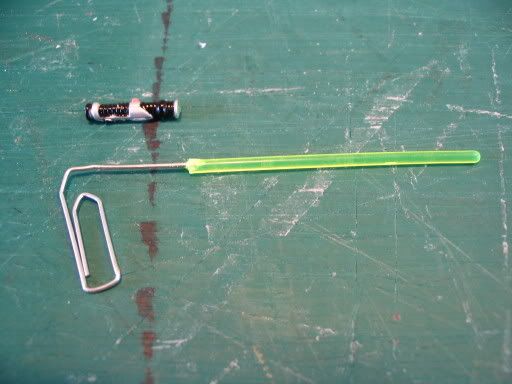 Cut off the paperclip so that the 'peg' in the blade is too long. Place the blade in the hole in the hilt and mark where the peg enters the hilt. This way you know how deep the hole in the hilt is and how long the peg has to be. I just held my thumbnail on the spot and eyeballed the length:
Place the blade in the hilt and check if it doesn't fall out easily. If so, drop a little superglue on the peg, put it in the hilt and very slowly turn the blade until the glue starts to settle. Familiar to tightening joints, not unknown to you, I'm sure: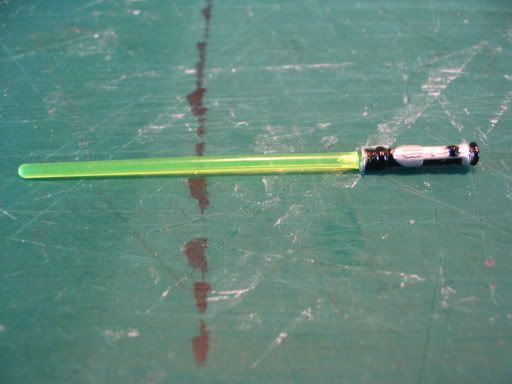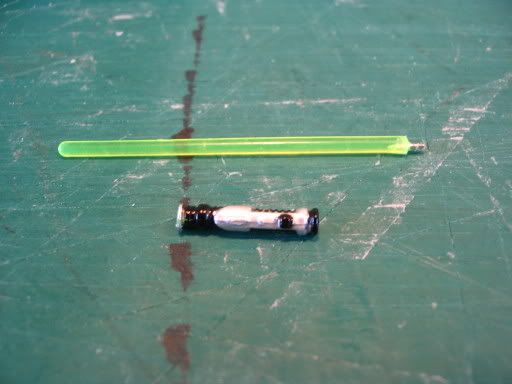 I read the How-to on FFURG, but there were no pics, but it's that method I used. FFURG also has a How-to on making D-rings, but I approached that a bit differently. When my batteries are done reloading, I'll make pics of that as well, ok?