376
« on: July 11, 2006, 02:24 PM »
Here's how to make a D-ring for your figure's lightsaber hilt. Initially from FFURG, but instead of superglueing the D-ring on the hilt, I prefer making one through the hilt. This allows for free movement of the D-ring, which makes it easier to let the saber hang more naturally of your figure's belt.
These are the main supplies for making a D-ring: a lightsaber hilt, a push pin, the paper clip from making the removable blade and a tie strip (the ones for tying up plastic garbage bags, sandwich bags, etc.):
Push the push pin firmly in the saber hilt. Not all the way through, just enough that it stays in:
Remove the pin and heat up the paperclip over a flame. Let it become quite hot. Better hold the paperclip with plyers. Push the hot paperclip firmly in and through the hilt at the spot where you pushed the pin in. Then remove the paperclip: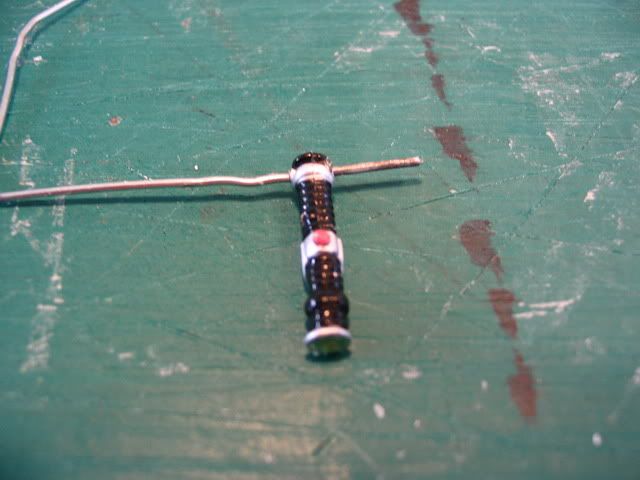 Strip the tie strip of it's plastic and loop the metal thread twice through the hole in the hilt:
Place a round object (like this pick, a toothpick, the blade of the lightsaber, depends on how small/large you want the D-ring to be), in the D-ring and pull both 'loose' ends tightly:
Using a wire cutter, cut off the loose ends as close to the hilt as possible. What I did was tightening the D-ring a bit more, cut off the ends and remodel the D-ring with the pick:
Push a pin in your figure's belt and superglue another piece of paperclip in that hole. After the glue has dried thoroughly, bend the paperclip in a 90+ degree angle and cut it off to the right size. You might want to make the point less sharp: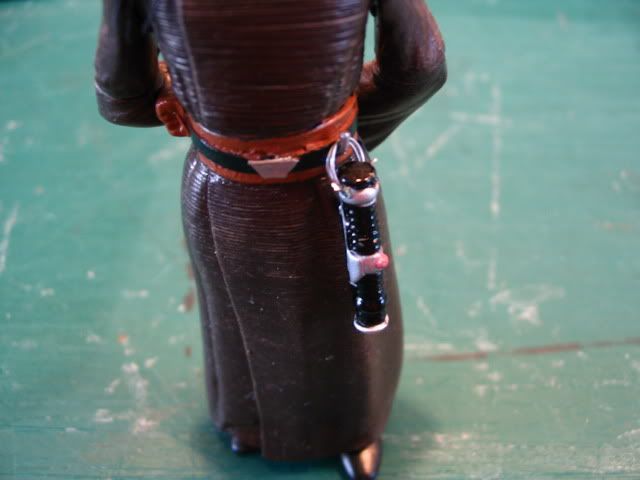 There you have it. This is quite easy to do, but it adds much to your custom.
- Incom