466
« on: January 20, 2004, 06:13 AM »
Finally, here's a shot of what the whole thing looks like right now: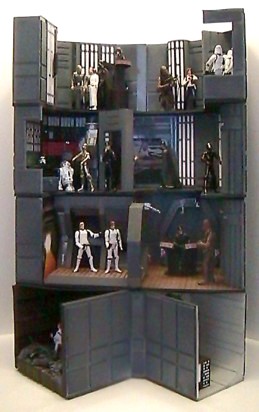 You'll notice these two areas seem to blend right into each other. The base for the Tractor Beam Control Tower will sit in the middle to create a wall between the control room and the hallway, but I'm still building it.
Also, this level was different from the previous ones in that there is a split down the back, making these two completely separate dioramas. Once again, the Tower will cover the seam when it's all put together.
Level five will be the top (for now?) and will contail the Tower as well as the doorways for the chasm "swing across" scene--which will have a removable bridge. If you look at these last couple levles, you can see things moving further back in the structure--this will allow the doorways (at the very front of level five) to really open up over a big dropoff. It'll be pretty neat.