18751
« on: June 1, 2004, 01:52 AM »
I like both... I think they are the true "ultimate" versions of both figures, yet while I love the Leia figure I was slightly let down by the Ben.
The Ben's lack of knee articulation is VERY disappointing. The only good there is at least he can still be seated in the Landspeeder. He just can't be seated in a real chair... That's highly disappointing that Hasbro would skimp that one little area... That one little detail.
The cloak I can deal with, but then again I'm trying to make my own less puffy one too so I'm biased.
Hasbro's work with softgoods is attrocious at times, and I'll admit Ben's OUTER robe is definitely not that hot. Why they use that thick fabric I'll never understand.
I reviewed Total Control Mace Windu here when I started...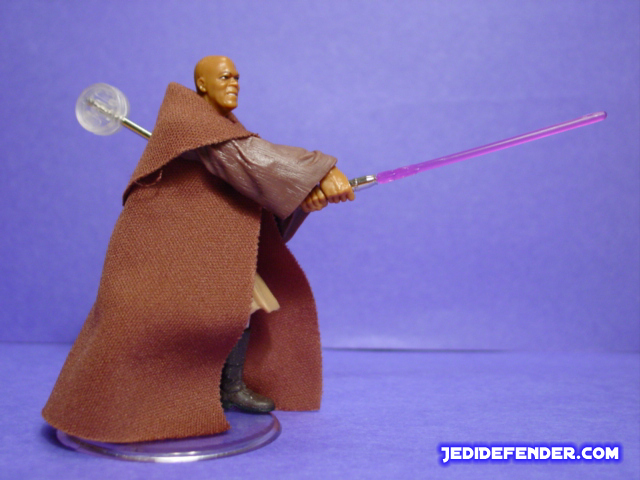 I'm sure a lot of you guys never bought him, but he was a surprisingly fun figure... Irregardless though, he had THE BEST type of fabric on a figure in this scale that I have ever seen/felt in person. It's woven tightly, it doesn't require stitching at the edges, it is THIN, it hangs well and even folds up some...
It's simply great. Hasbro should be using it exclusively for sftgoods in this scale, yet they've never used it since.

Really pisses me off, honestly. They've acheived "perfection" but refuse to repeat it.
So Ben's not bad but could be better... Leia, to me, is as good as it's gonna get.
They're skimping on articulation still, which sucks, but they're still making some pretty good figures.
To me the Leia's one of the most needed because I don't think an ANH Leia (arguably one of her most iconic outfits) hasn't got a "good" figure yet. That looks perfect to me. Still I see how a softgoods hood would really have done great!
I'm anxious to see all the others.