6181
« on: May 6, 2008, 11:52 AM »
**EDIT** You may need to scroll to the bottom and move the scroll bar to the right to view horizontal pics.
All the recent collection photos have inspired me to share some remodeling of my Star Wars room. Kind of hard to see from the pictures (Jay may inspire me to do a video once its done!), but here's a quick overview:

South Wall
has 12 figures on top, three dioramas (Clones, Hoth Battle, Endor Battle), and most of my basic carded figs (banker boxes, 3 x 9 x 2).

East Wall
has my loose figure collection - every figure from POTF2 to present (still need to open latest Legends and TAC waves)
My Detolf with Avengers/Misc Legends Figs:
West Wall and North Wall
(closet) are not pictured - will be updating those once everything else is completed.
Transformers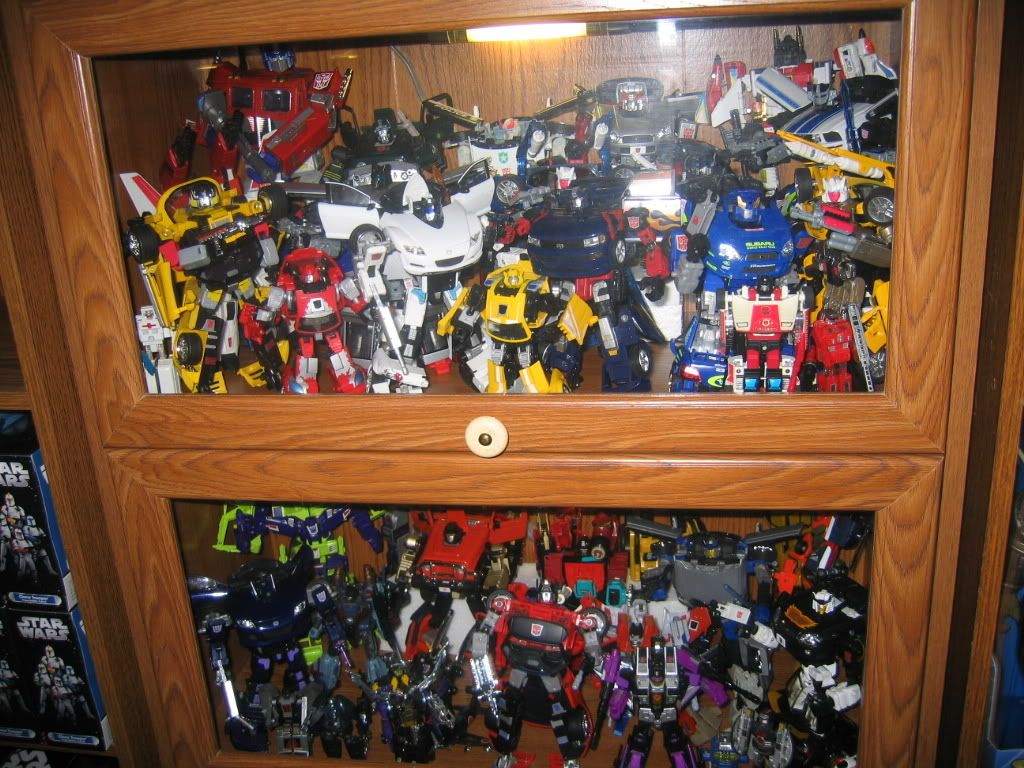 Center Display
is what I'm working on now. Got the Display cabinet from my mother-in-law and will be stocking with vintage figs, couple of ships, vintage 12", and modern exclusives. Think I have room for my customs in here too, but we'll see.
Behind the cabinet is a large octogon display. I'm working on the top right now, which will be a Death Star diorama. The black octogon in the garage is a pre-fab board that I drilled about 1,000 holes into, then painted yesterday. This will serve as the floor of the death star - holes are just the right size to fit ulteramma pegs for figures, so I won't need stands and can fit troops closer together. I also have three vintage DS playsets, a falcon, and a shuttle that all need to go on here - might be tight even though its 4' by 4'.
Anyway, just wanted to document a "before" picture as I'm hoping to make major changes throughout the week.