436
« on: August 26, 2005, 07:32 AM »
Well, despite a terrific effort by
Sith Lord Chaos
to just cut and run before Callie came back, he was beaten by a narrow margin by the "let's wait for Callie" camp, led by
Chewie
and backed up by
Diddly, CorranHorn
and the Artist Formerly Known as
Famine
.
So stay and wait for Callie you did!
Findswoman
opted not to join that particular debate, though she did offer some great analysis and suggested that you check out the stormtrooper belt, a suggestion echoed by
CorranHorn
and
SLC
.
In fact,
SLC
suggested keeping the belt and wearing it under the poncho, using it to holster your own blaster for easy access.  (I did forget to put all of your own items in the belt compartments,
SLC
, but we can do that later if you remind me).
And, of course, using the poncho/changing clothes was a suggestion also echoed here by
Diddly
, but it goes way back to even before the long hiatus and was pretty much a near universal suggestion back then....
So enough preamble....on with the show!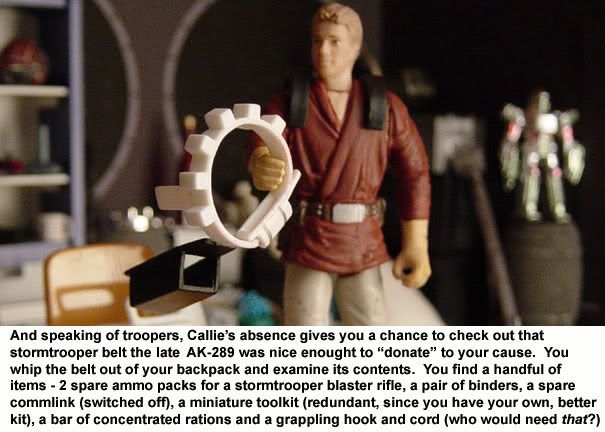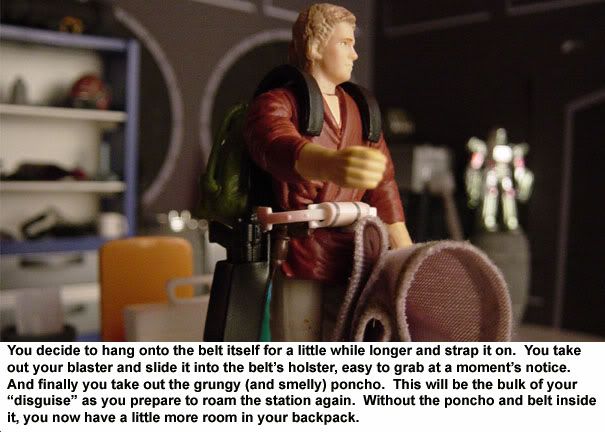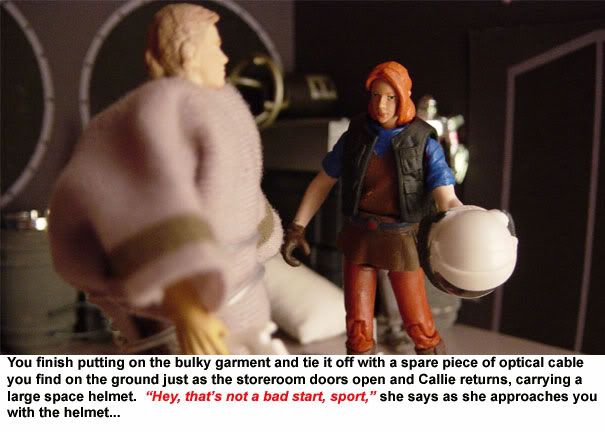 You are in Callie's office, about to leave for your meeting with "Blondie".
Any last questions or comments before you go?
WHAT DO YOU DO OR SAY?
Inventory:
dirty poncho (worn)
space helmet (worn)
Credit Stick
toolkit
hold-out blaster (worn on belt)
comm link (hidden in pants)
backpack containing -
change of clothes
bottle of booze
control pad for ship
data pad with technical schematics
73 credits
stormtrooper belt (worn) containing:
grappling hook & cord
2 spare ammo clips
1 imperial comm link
binders
ration bar
mini tool kit