106
« on: February 26, 2015, 02:26 AM »
I got my 3 figures from EE today... Shipped free too. While I'll concede the price blows, these are imports and I think that has to be taken into account. It's like people in other countries complaining about Star Wars figure prices, so it's only fair.
I picked up the Agurts Infantry, Bucks Team Bob (Leader), Bucks Team Steel (Guy who apparently blows **** all to hell)...
While price is questionable, you do get substantial "toy" and substantial packaging for said toy. I think that should be taken into account too. While I don't foresee myself army building figures unless it's by accident (pack-ins and whatnot), I definitely see myself being more interested in the figures themselves whereas I was probably saying a year ago that I wouldn't buy any, and stick to the hardware.
Hardware's fun but when they make a dude with a rocket launcher rocket briefcase, they have my attention.
I opened these and proceeded to litter my twitter feed (@Jesse_James77) with pictures and thoughts... they were a-plenty.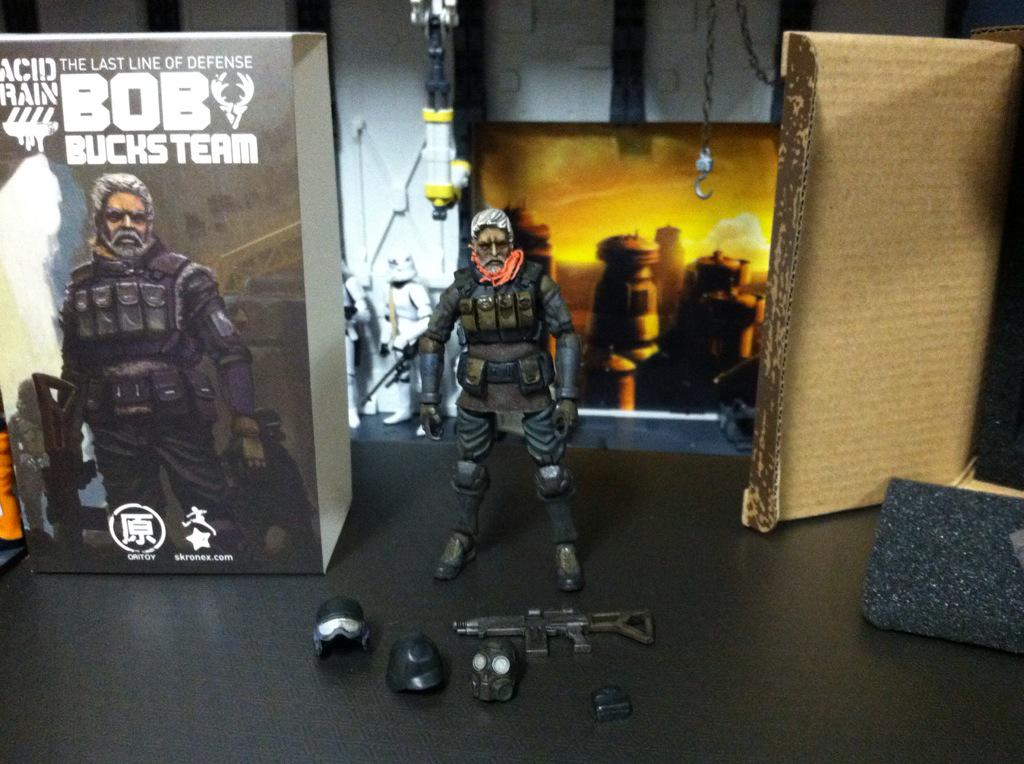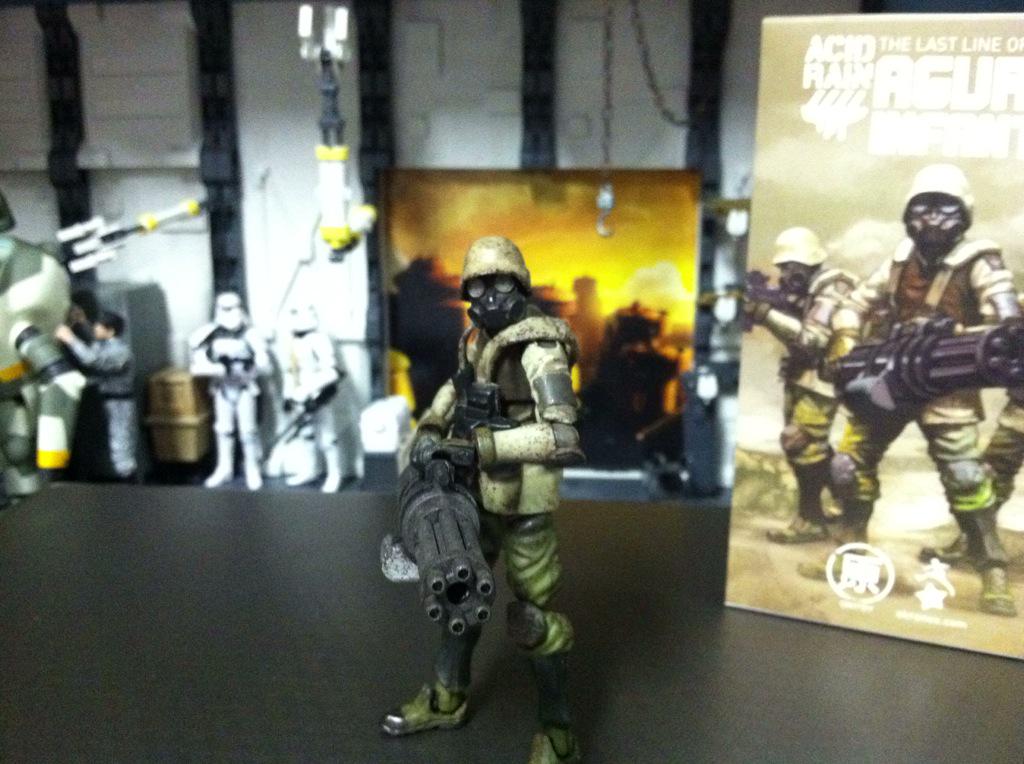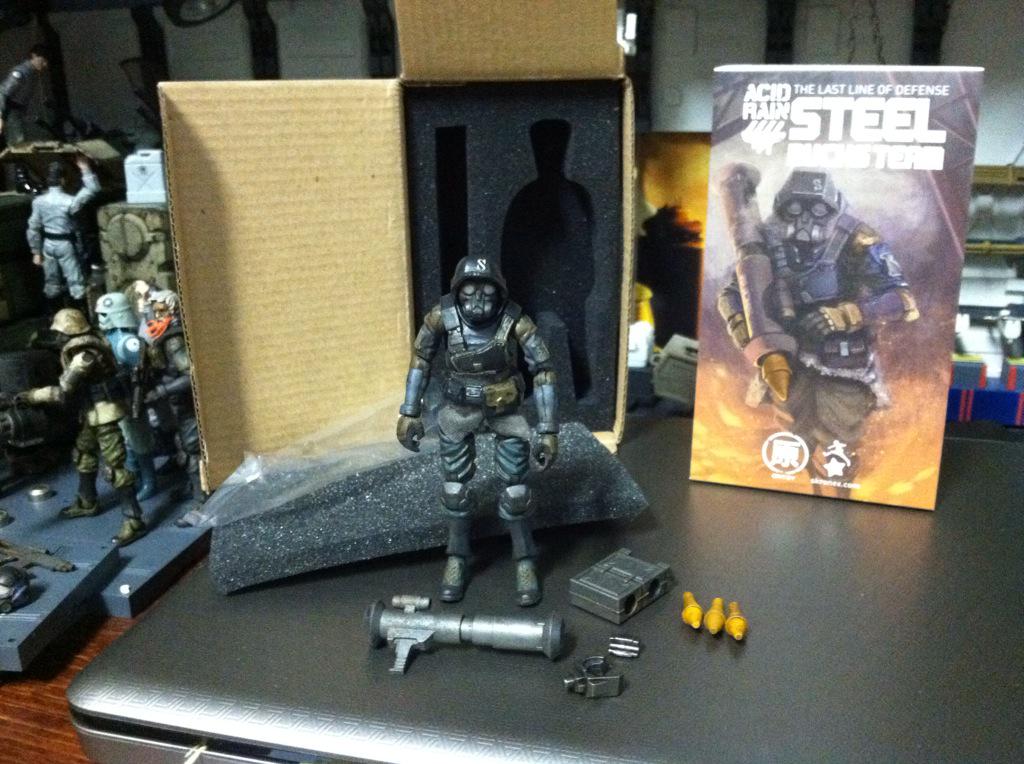 I enjoyed kinda pseudo-reviewing them... phone pics are what they are, my apologies.
The packaging these come in, it's really neat. It's not practical, but it's nice foam lined, heavy cardboard, and a beautiful sleeve of art of the character/figure (art that the line's creator designed to make the figures) slips over the box. They don't tape it shut, no bubbles... The foam inside is high quality foam, like comes with a gun case almost. Very neat.
The figures are heavily weathered, as is the staple of the line in general... All 3 came with lots of extra gear, a good deal more than the Sol Commander came with, though I only got Sol Commanders from the Wings of Samothrace statue LE set.
The Bob figure is their first/only unique human headsculpt... It's cool, and I can't really tell you who Bob is other than he's crept up in a few blog posts and has some kinda story going on where he's been around a long time. He seems to lead some special team of dudes (Bucks Team) with a sweet simplistic logo of a buck's head with antlers. I dig it, even if the backstory is kind of piecemeal right now.
Bob came with multiple heads (masked and unmasked), a unique pouch which interchanges with his fanny pack pouch that's on him, I think. He has a rifle, and 2 helmets. Really Bob is an "army builder" in disguise. You can have Bob, but with the masked head and multiple helmets (a redeco Sol Cmdr and an Agurts Inf. helmet), he really could be made into just a neat infantry dude.
He also has softgoods including a very thin fabric shirt and a weird little reddish frayed scarf thing. I dig it! Both look great.
The Agurts Infantry guy I'd been reluctant to purchase but with Bob and Steel in my wheelhouse I got him, and I'm happy I did. He rocks the most weapons so you can army build and arm up a nice squad. My fav weapon is the little "hand cannon" pistol thing. All the weapons feature hollow barrels, and nice paint apps. They're not pliable plastic like Star Wars, but hard styrene, and multi-part in some cases (mini-gun).
He features a little less umph to his design, and I'm noticing figures tend to share a few parts (I want to see more new, for the cost), but I'm glad I picked him up finally. I'd passed, but the quality is really nice and he's just fun to pose with that big ass mini-gun.
The Bucks Team "Steel" guy was my last and most interesting pick up. He's got less softgoods going on than Bob, but his work well. He has a big honkin' rocket launcher as his weapon, which has a clip you snugly plug into his back. My only fear with the clip is it'll break at some point. It's a tight fit to put the launcher into it, but so far no stress I can see so I'll just be careful.
Steel's rocket launcher has 3 missiles that look like little yellow RPGs, which plug into the front of the launcher. The 2 extra you have plug into a weird little briefcase he has for storage. It doesn't open, they simply plug into holes in the case, which are open on one end so it's almost like the box is a weapon. Perhaps it can be set up as a sort of remote launch system? I dunno.
There is also a little clip for this that plugs into the Steel Figure's belt on the back (and his back also, for sturdiness) and it holds the briefcase onto his belt like a fannypack of death. It's easily my favorite figure, and not just because of the accessories.
The only flaw I could cite on Steel are that he should've really come with the hand blaster the Agurts guy came with as a sidearm, and Steel has a groove in his noggin that is visible when the helmet is off. A ridge inside the helmet plugs in the groove. I honestly don't care for that, and feel it ruins taking off the helmet, and this "feature" isn't on Sol Commander or Agurts Inf. figures, or Bob's second masked head/helmet sets.
Otherwise, breaking joints loose is really about the only complaint, and that's more a warning. Use hot water, a firm but cautious hand, and just take your time and be careful if you do buy any of these toys. The weathering is so heavy, it fuses a LOT of the joints and moving parts (vehicles and figures alike), so you need to carefully loosen them.
Go to our front page, go to Entertainment Earth, and buy up!