9151
Well, I finally got a chance to open up my Max Rebo set.
clicky for larger image...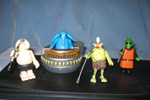 Medicom sure loves this line, it really shows what can happen when a company cares about the quality of the product.  The detail on Rebo's Ball Organ is fantastic.  This is such an incredible set and the boxed presentation is equally stunning.
I think these little guys have easily vaulted themselves into my top ten favorite figures... which should last until Series 3 and Vader and the Emperor come out.   

Also, today at TRU I picked up a nice car display case that I'll be using for my Rebo Band set.  I'll probably also bust out the Speeder Bike set and set them up inside there too:
clicky for larger image...